ALMIT
Since January 2018, ÖJAB has been a partner in the project "ALMIT" (Acceleration of Labor Market Integration of Immigrants Through Mapping of Skills and Trainings). This consortium includes a further eight partners from Bulgaria, Serbia, and Turkey.
The core idea of this project is to develop an innovative model for ascertaining the skills of migrants and refugees, thus making it possible to support this target group's swift integration into the labor market.
The ultimate objective is to ensure both high-quality and sustainable employment as well as fair social protections, to combat social exclusion and poverty among migrants and refugees, and to improve the conditions under which members of this target group work.
This project is divided into a total of seven work packages. In these, activities including the following are carried out by the project partners:
Development of an online language course including its curriculum and learning modules
Compilation of civil society-related and intercultural course materials
Pilot runs of the developed courses including their course materials
Compilation of a "train-the-trainer" handbook
Creation of an E-learning platform
Guidelines for labor market policy regulations
SWOT analysis relating to this project's theme in the partner countries
Matching with companies
Publication including final conference in Vienna
All phases of this project involve close collaboration between ÖJAB and the other project partners. And for one of the work packages, ÖJAB is the responsible contact for the other partner countries. This work package has to do with compiling information on local labor market rules and trends as well as on rules pertaining to social assistance, cataloging of the target groups' educational backgrounds and work experience plus compiling profiles that detail refugees' skills, and ascertainment of current labor market demand.
Project partners: Bulgaria (coordinator), Serbia, Turkey, Austria
Project duration: January 2018 – June 2020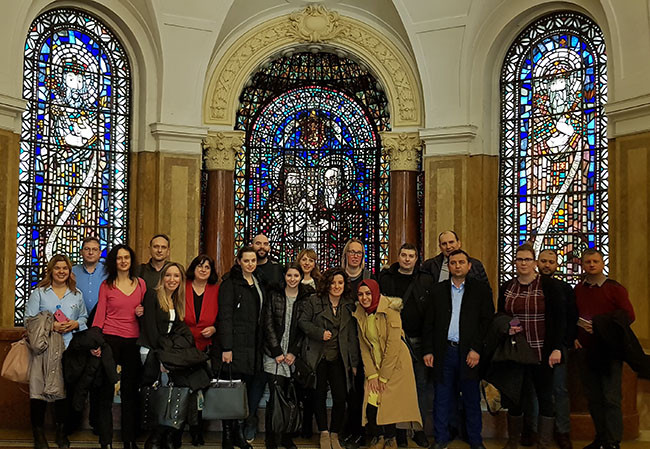 The ALMIT kick-off meeting took place from 11.02.-14.02.2018 in Sofia, Bulgaria. During the meeting there was not only a first meeting, the first steps were planned and the responsibilities were discussed.
ALMIT Online Conference 2020
Visit www.almit.at to register for the ALMIT Final Conference 2020 on Thursday, 26th November 2020. (Deadline: Monday, 20th November)
Programme
Dial-in: 9:00 - 9:30 am
Welcoming: 9:30 - 10:00 am
Project presentation: 10:00 - 11:15 am
Pause: 11:15 - 11:30 Uhr
Knowledge sharing: 11:30 - 12:30 Uhr
Leave taking: ab 12:30 - 12:45 Uhr