Give them a 2 chance (G2C)
The main objective of the Give me a 2 chance (G2C) project is to provide second chance support to entrepreneurs whose first business has failed or was not successful and to accompany them in this venture through targeted skills acquisition.
Aims of the project
The specific objectives of G2C include:
Encouraging failed and former entrepreneurs to learn from their experiences by providing them with the right tools.
Developing an interactive online self-assessment tool to identify areas for improvement, strengths and weaknesses.
Develop innovative digital educational content (online course in the form of e-learning modules)
Providing educational resources for teachers, trainers and mentors in vocational education and training to support and guide failed and ex-entrepreneurs.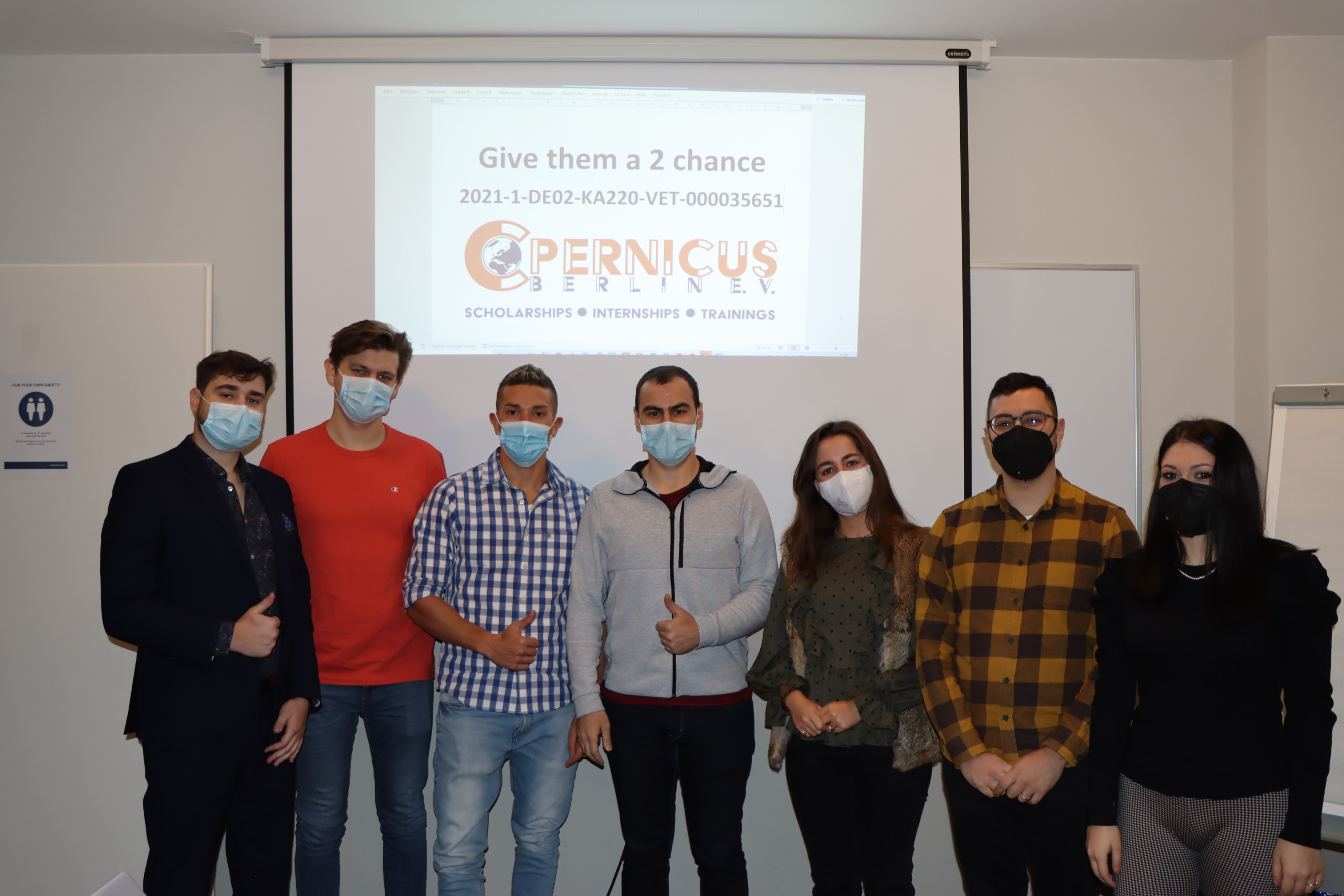 Members of the project team at the kick off on 4 December 2021 in Berlin.
Target Audience
G2C has two main target groups:
Failed entrepreneurs (who have gone bankrupt and/or are in the process of restructuring their business) and former entrepreneurs (who have not failed but have ceased their activities due to lack of success).
Mentors, teachers, trainers, educators working in VET centres/institutes, business associations/chambers of commerce, vocational schools and NGOs providing VET and entrepreneurship education.
Free Training in Portugal
In the context of the Erasmus+ project a free 7-day-training takes place in Barcelos, Portugal. The trianing focuses on following topics of entrepreneurship:
Why should I try again after I failed as an entrepreneur?
What financial resources are there for those whose business plan has failed?
Guide: business and legislation
Financial management and corporate resource management
Negotiation skills and communication skills
Business planning with the help of past experience
All persons residing in Austria and interested in entrepreneurship and especially failed or former entrepreneurs are cordially invited to take part in the training! Registration closes on November 10th.
Online Registration for the Training
Project partners: Germany (coordinator), Italy, Portugal, Poland, Spain, Austria
Project duration: November 2021 to November 2023
The European Commission support for the production of this publication does not constitute an endorsement of the contents which reflects the views only of the authors, and the Commission cannot be held responsible for any use which may be made of the information contained therein.