Apprenticeship Exam Preparation
Practice-Oriented Further Training for the Attainment of Higher Qualifications
ÖJAB's BPI offers young people and adults opportunities for initial and continuing vocational education and training in a wide range of areas. In order to be able to take part in these measures, prospective participants must present a referral from the respective contracting agencies and/or partner organizations – e.g., the Austrian Labour Market Service (Arbeitsmarktservice – AMS).

Modular Apprenticeship Exam Preparation (MLV) Courses
MLV courses are extra-occupational in nature. Participants choose the course that is right for them based on their personal goals, prior knowledge, and on-the-job experience. Courses are offered during the workday for unemployed individuals; other times of day feature extra-occupational courses for individuals who are currently employed.
Subject areas: metalworking, metal technology, electrical engineering, vehicle body construction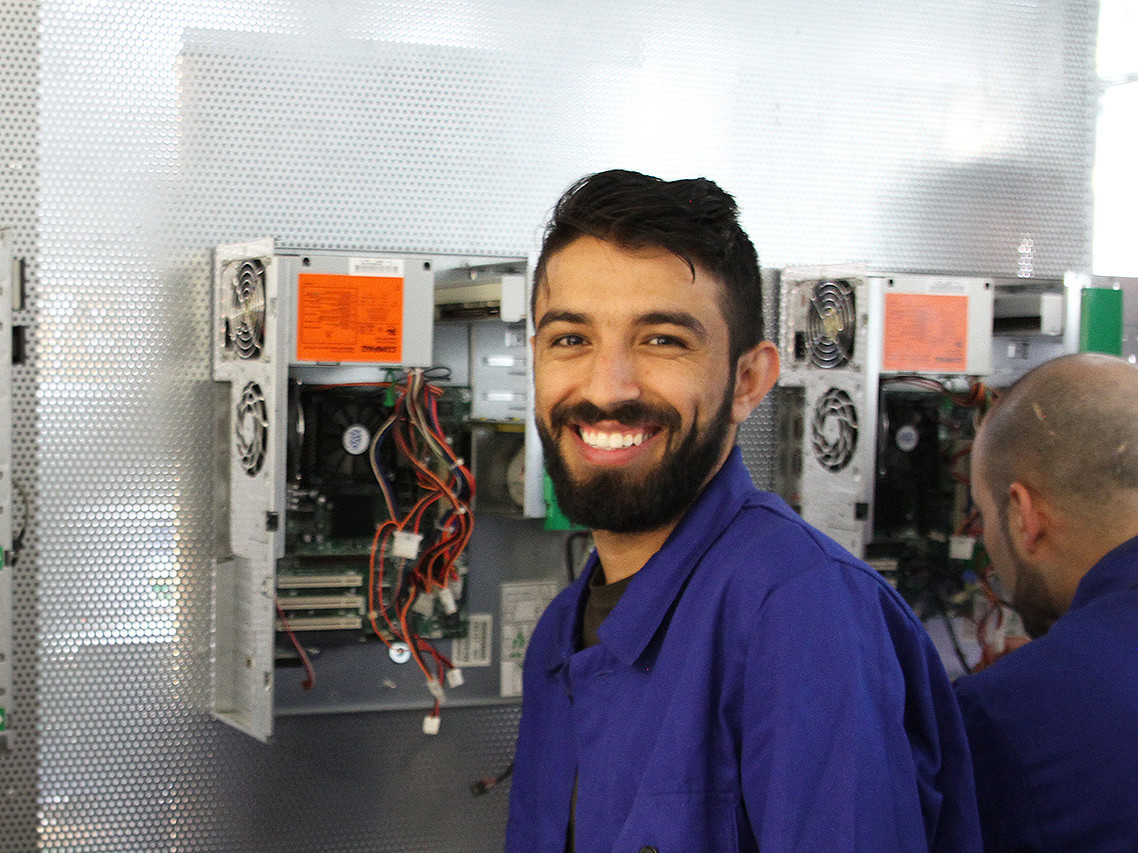 Participant at the BPI.
Apprenticeship Exam (LAP) Preparatory Program (VOL)
The objective of this program is to convey the knowledge and skills needed to work in the fields of mechatronics, metal technology, and electrical engineering. Graduates earn certificates issued by the BPI that document course content, hours, and passage of the apprenticeship exam in their chosen occupations.
Subject areas: metalworking, metal technology, electrical engineering, mechatronics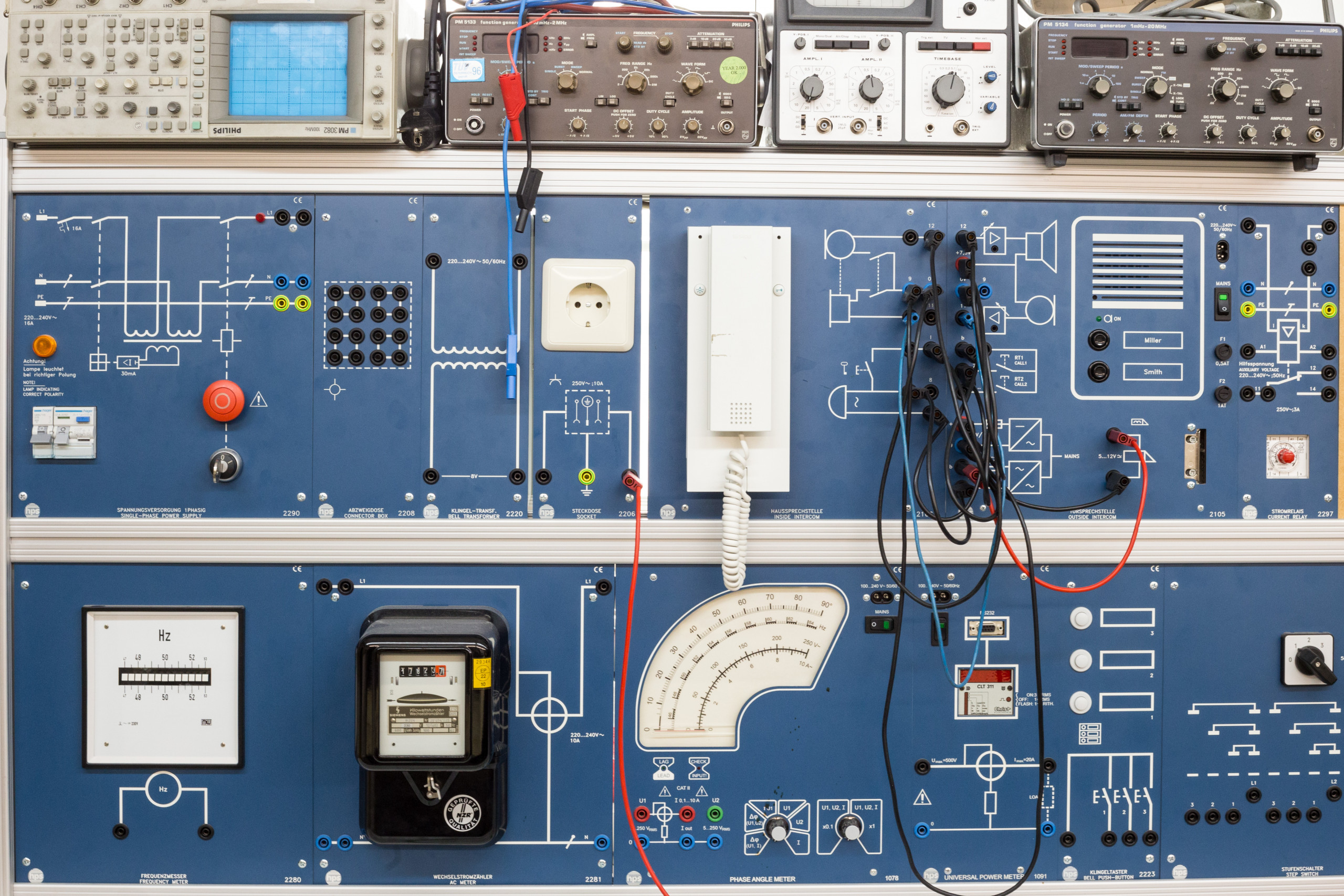 A patch panel for educational use in the workshops of the BPI.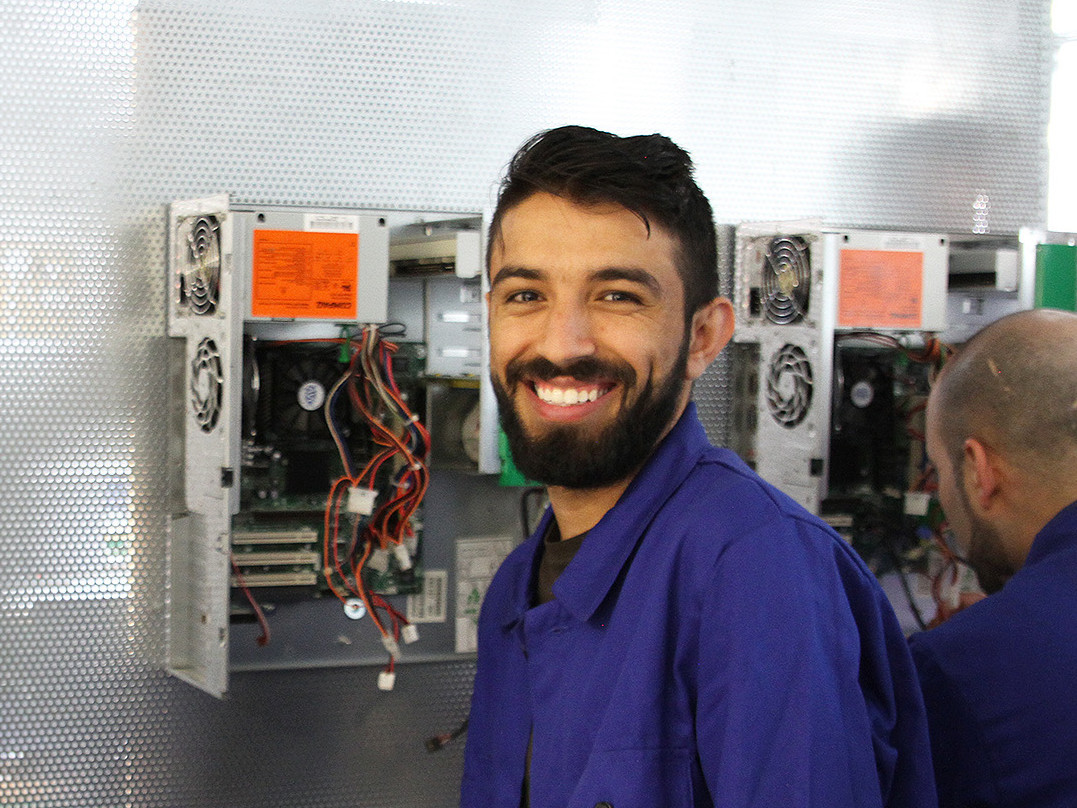 Das BPI der ÖJAB bietet vielfältige Möglichkeiten der Aus- und Weiterbildung.
IN-SCHOOL APPRENTICESHIP (ÜBA)
This program targets young people aged 21 and under who have successfully completed their compulsory schooling, are being assisted by Austria's Labour Market Service, and would like to become apprentices. Participants who have not found a business at which to apprentice may complete apprenticeships at the BPI within the standard period of three years. They simultaneously attend vocational school and complete external internships at actual businesses.
An image video (in german) shows further impressions of the in-school apprenticeship at ÖJAB's BPI.

Subject area: glass building technology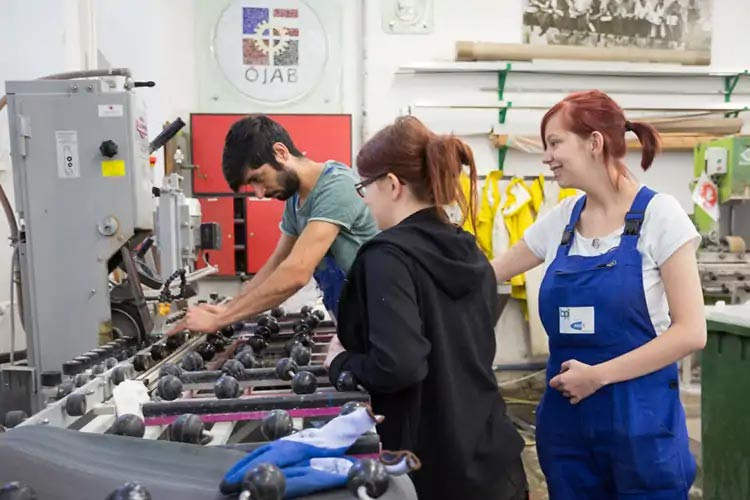 Glass building technology apprentices in a BPI workshop.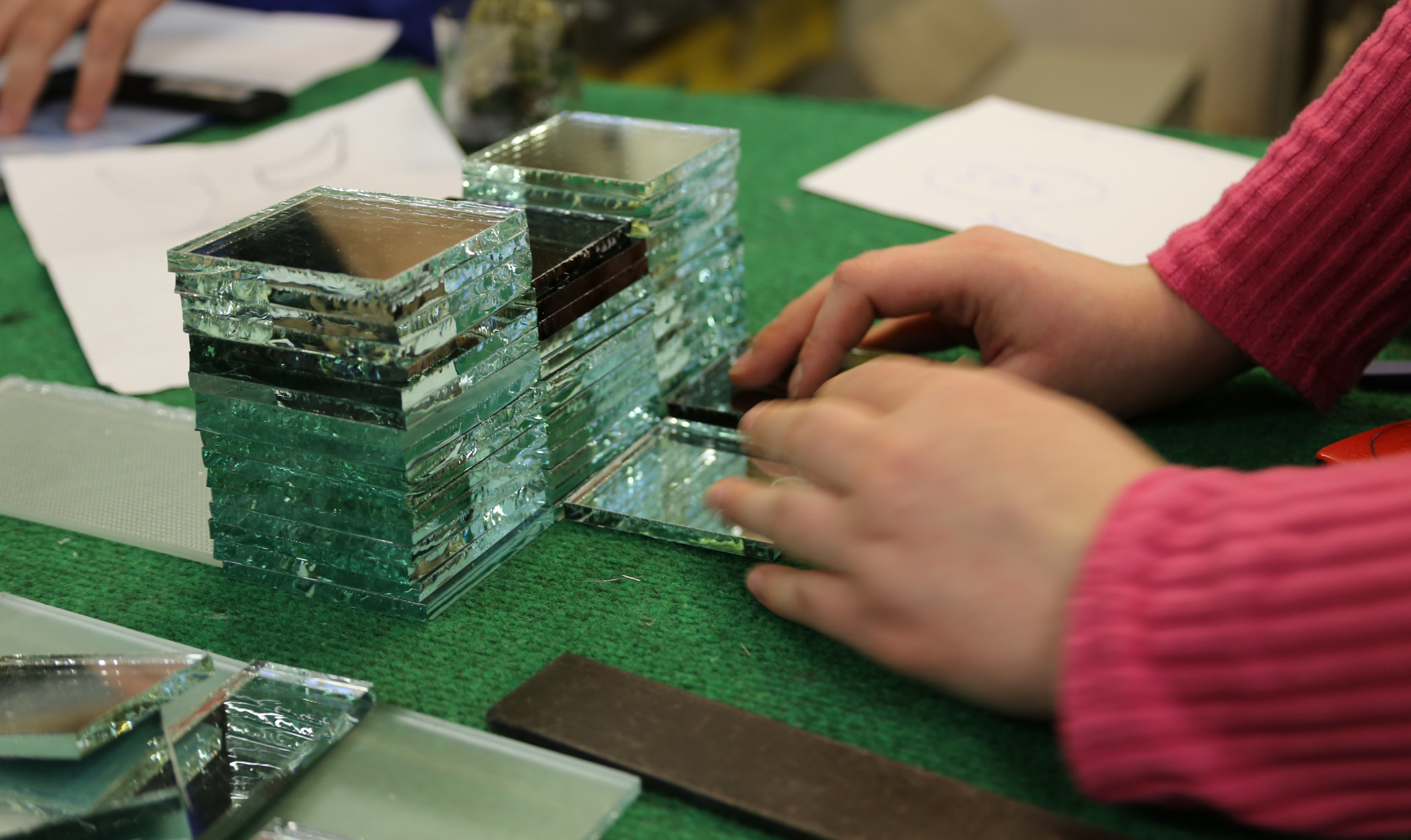 Statements by Apprentices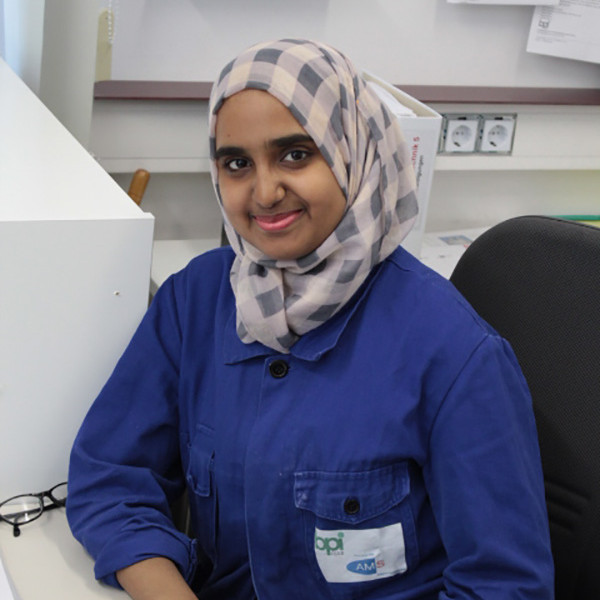 Sahuur SALIM ABDALLA
1st-year glass building technology apprentice
I'd originally attended an evening secondary school with the goal of taking the Matura. But after three years, my German skills still weren't sufficient. So I looked around and eventually found out about the apprenticeship in glass building technology at ÖJAB's BPI from Verein Sprungbrett, an organization that provides advice and support specifically for girls and young women. They made it possible for a group of girls to spend four days at the BPI to learn a bit about the techniques used by glaziers. It was a great new experience for me. In just a short while, I'd learned a lot about glass-cutting – and it was fun right from the start.

Now I'm here, and I like everything a whole lot. I like glass as a material, how you can create soft lines from sharp edges. I also enjoy the attractive colors of regular glass and ornamental glass. And I especially like how we don't use any poisonous chemicals or materials at the workshops. But the most important thing for me is to find something enjoyable and interesting to do straight off – and I've now become passionate about continuing in this line of work.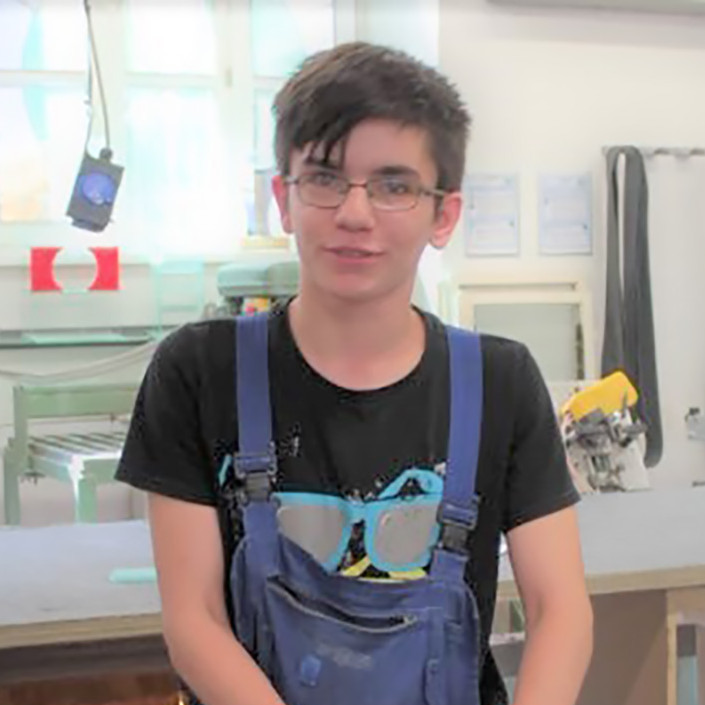 Patrik Csordas
2nd-year glass building technology apprentice
After graduation from my compulsory schooling, I wrote lots of applications but couldn't find an apprenticeship spot that was right for me. I then got help from the Labour Market Service and the organization "Jugend am Werk," which introduced me to several different vocational fields. I first did an internship in metal technology, which I liked. But then, I got a chance to try out glass building technology at the BPI. And pretty soon, I knew: "This is something I want to do" – I absolutely wanted to do something craftsmanship-related. The first thing I made here was a glass candelabra. And the positive first impression that I'd gotten in the workshops was spot-on. What fascinates me most about working with glass is how I can drill a hole through this delicate material and it doesn't shatter. And I really do want to become a true, all-around glazier. I'm not sure what the future will bring. But what's important is that whatever comes along, that's what it'll be, and I'll take it on.
Contact information

Sie benötigen weitere Informationen zu den Lehrabschlussvorbereitungen am BPI der ÖJAB oder interessieren sich für eine Teilnahme? Wir stehen Ihnen gerne zur Verfügung und freuen uns auf Ihre Kontaktaufnahme!
SANJA Imamovic-Pecic
Subject areas: metalworking, metal technology, electrical engineering, mechatronics
Telephone: +43 (1) 8107382-11
Email: office@bpi.ac.at
Web: www.oejab.at/bpi