German Courses
at ÖJAB's BPI – www.oejab.at/learngerman
German courses for levels A1 through B2
ÖSterreichisches Sprachdiplom – ÖSD Exams
The Österreichisches Sprachdiplom Deutsch (Austrian Language Certificate in German / ÖSD Certificate) is an oficially recognized testing system for German as a foreign and/or second language.
ÖJAB's BPI administers ÖSD exams at all levels, from A1 to C1. Each level's exam consists of a written part and an oral part. After successfully completing both parts, examinees are awarded an internationally recognized certificate.

ÖSD Exam Dates, 2021
19/02/2021, Vienna
26/03/2021, Vienna
21/05/2021, Vienna
11/06/2021, Mödling
25/06/2021, Vienna
24/09/2021, Vienna
29/10/2021, Vienna
19/11/2021, Mödling
26/11/2021, Vienna
Registration
In order to take an exam, registration is required. The exam fee has to be paid simultaneously with your registration.
The registration deadline is always 14 days prior to the exam date.
To register, please send us an E-mail or visit ÖJAB's BPI.
If you'd like to register in person, please bring along a photo ID (such as your passport) as well as the exam fee in cash. Your registration is accepted as soon as your exam fee reaches our bank account.
The fees for ÖSD exams vary according to language level. The following amounts are valid for 2021.
Fees for the ÖSD Exams
Complete exam:
A1: € 120
A2: € 138
B1: € 155
B2: € 177
C1: € 193
Partial exam, oral:
A1: cannot be taken separately
A2: € 35
B1: € 38
B2: € 51
C1: € 56
Partial exam, written:
A1: cannot be taken separately
A2: € 103
B1: € 117
B2: € 126
C1: € 137
Learning German Made Easy
Students at ÖJAB institutions and guests who'd like to improve their German can register for reasonably priced German courses. Our ideally sized study groups are made up of at least 10, but no more than 18 participants.
A semester course contains a total of 50 lessons (1 lesson = 50 minutes) and costs € 375.
The next ÖJAB German courses are scheduled to start again from 2021. To register for an upcoming course or for further information, please send us an E-mail.
Upon completion of the semester, you'll receive official confirmation of your participation.
If you're interested in taking the internationally recognized ÖSD Exam, you can book it directly through us. Our course will thoroughly prepare you for it.
The ÖSD exam fee is not included in the fee for this course.
Your course registration only becomes valid upon payment of the € 375 course fee and confirmation of your registration by us.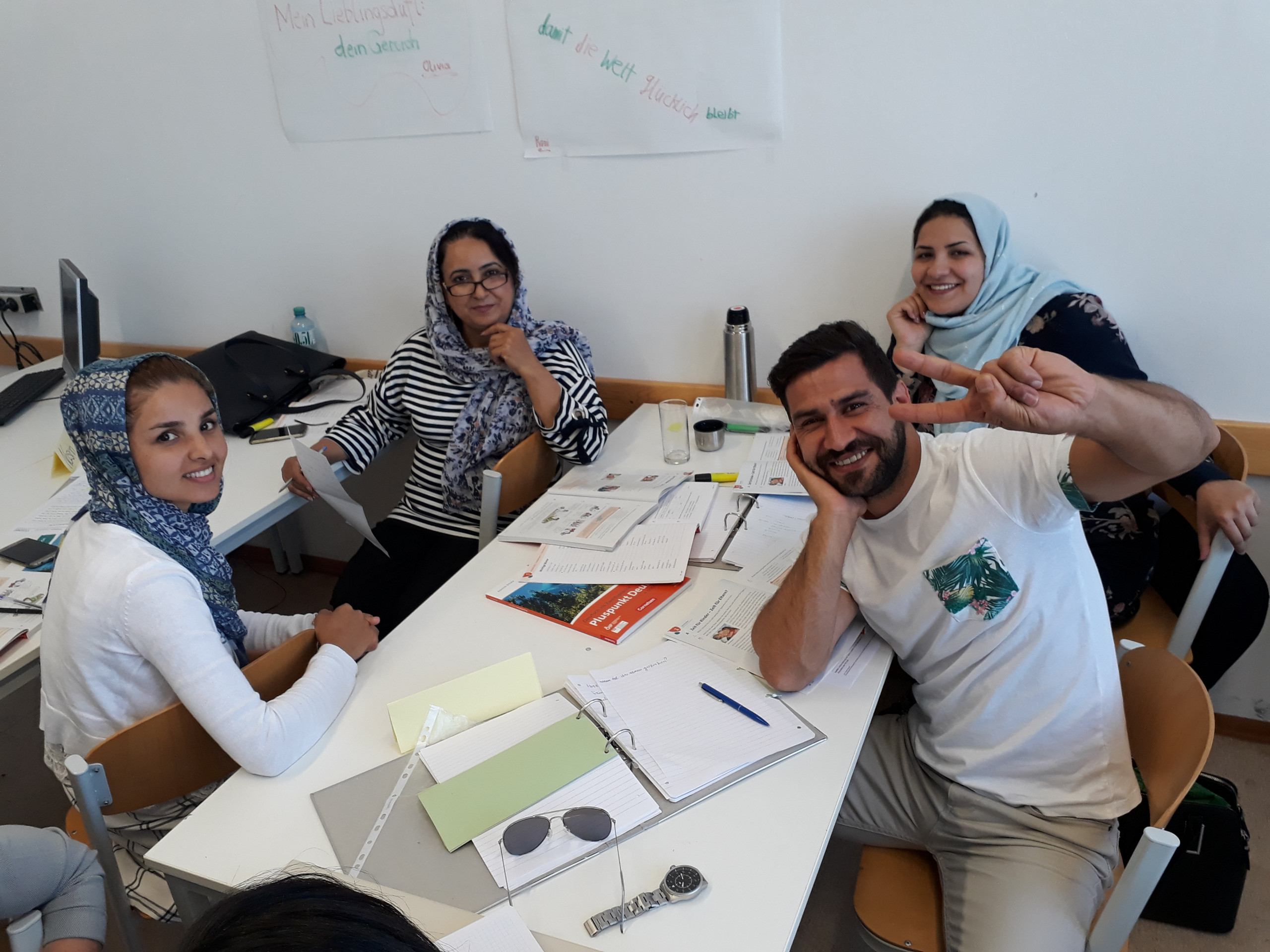 Language course participants.
Information and Registration
ÖSD course and testing location:
BPI der ÖJAB – Ausbildungszentrum Wien (Vienna Training Center)
Längenfeldgasse 27/A/3, 1120 Vienna
Telephone: +43 1 8107382-11
E-Mail: learngerman@oejab.at
Web: www.oejab.at/learngerman
Office hours:
Mon. to Thurs., 9:00 a.m. to 4:00 p.m.
Fri., 9:00 a.m. to 2:00 p.m.
We are a recognized language institute and ÖSD exam center where experienced language coaches serve international participants.