HTL Pre-Study Course: MANA
If you are in possession of professional qualifications with chances of recognition of credits – www.oejab.at/mana
You have technical training or a relevant professional experience, which is not acknowledged in Austria?
If you wish to further enhance your existing knowledge in your professional field and acquire the prerequisites for the Austrian diploma examination at the HTL - Higher Technical Institut?
But your professional experience is not sufficient to directly enter a relevant educational program.
Then MANA can help you!
Course objectives
The preparatory course will help you make the best possible use of your existing professional skills in the job market as well as for further education and higher qualification.

On the one hand, the preparatory course offers you assistance in updating and adapting your specialist skills. On the other hand, comprehensive general knowledge with a focus on German and obtaining German language skills are offered.

Additionally, you will be supported in the formal recognition of your foreign qualifications by compliance or nostrification.

The preparatory course addresses these offers to persons with a migration background who have not been able to fully develop their talents and qualifications in Austria so far.
Die MANA-Lehrmodule im Überblick
Vorbereitungsmodul zur sprachlichen Qualifizierung und zur Vorbereitung auf Leben, Ausbildung und Arbeit in Österreich
Erweiterung und Festigung der Deutsch-Sprachkenntnisse auf Niveau A2 und B1
Kenntnisse und Kompetenzen, die für das Leben, die Ausbildung und die Arbeit in Österreich erforderlich sind
Möglichkeit der Förderung in den Fächern Englisch, Angewandte Mathematik und Angewandte Informatik
Geeignet (jedoch keine Pflichtvoraussetzung) als Basismodul vor dem Berückenlehrgang (siehe unten)
Vorbereitungsmodul zur sprachlichen QUalifizierung
Brückenlehrgang für technische Fachrichtungen
Elektrotechnik, Maschinenbau, Informatik
breite fachliche Orientierung in technischen Fachbereichen
Weitere Förderung der Fachsprache
Vorbereitung auf die weitere berufliche Ausbildung (HTL Vorbereitungslehrgang – Aufbaulehrgang, duale Ausbildung - Lehrausbildung)
Brückenlehrgang für technische Fachrichtungen
START, DAUER UND Voraussetzungen
Wintersemester: Tagesform von 05.09.2022 bis 03.02.2023
Sommersemester: Tagesform von 13.02.2023 bis 30.06.2023
Voraussetzungen

Mindestalter von 16 Jahren (Sprachlehrgang, Brückenlehrgang ) bzw. 17 Jahren (HTL - Vorbereitungslehrgang)
mind. Pflichtschulabschluss bzw. gleichwertiger Abschluss
Deutschkenntnisse auf Niveaustufe mind. A2
hohe Lernbereitschaft
Get ahead in life
Gain a foothold and new career opportunities with the educational programmes by BPI of ÖJAB.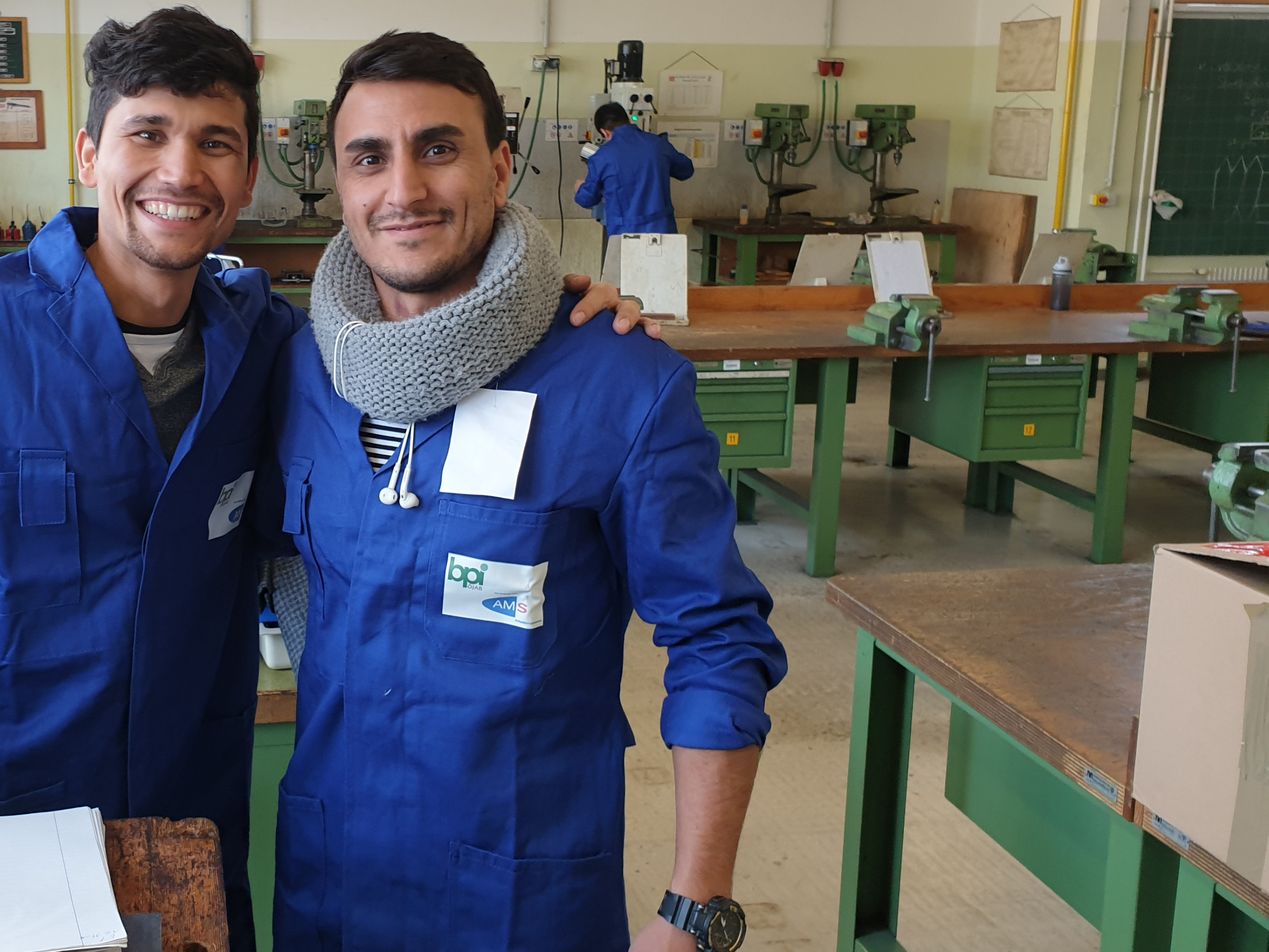 Contact & Information
weiterführende Informationen
Genaue Informationen zu den MANA-Lehrgängen
Deutsch und Integration
Brückenlehrgang für technische Fachrichtungen
HTL – Vorbereitungslehrgang
finden Sie unter:
Gratis Beratungsgespräch
Wir beraten Sie gerne zu Ihrer individuellen Situation und beantworten alle Ihre Fragen.
Jetzt anmelden für ein kostenloses Informationsgespräch!
Anmeldung für die MANA-Lehrgänge 2022/23
Sie können sich ganz bequem mittels Formular für die MANA-Lehrgänge im Schuljahr 2022/23 anmelden. Für wetere Fragen dazu steht Ihnen gerne DI Marc Odic unter +43 660 2011423 oder marc.odic@bpi.ac.at zur Verfügung.
MANA-Infotage
Der nächste Infotag für MANA findet am 29.08.22 um 13:00 Uhr statt. Anmeldung und Details: http://mana.bpi.ac.at
Berufspädagogisches Institut Mödling
Dr. Bruno Buchwieser-Gasse 1, 2340 Mödling
Institute for Professional Training and Development
Address:
Dr. Bruno Buchwieser-Gasse 1
2340 Mödling, Österreich
Contact:
T +43 2236 23271-0
F +43 2236 23271-26