ÖJAB-Haus Eisenstadt
student dormitory
7000 Eisenstadt, Campus 2

272 places

all year round student housing in Eisenstadt

room types: Single room, Twin room
highlights of the house:
WLAN
LAN
fitness room
laundry room
bicycle storage place
car parking
sauna
music practice rooms
green space nearby
ecology
from 252,00€/person per month
For a place in a student room including heating, electricity, free high-speed Internet access (WLAN and LAN), TV connection, and room cleaning service. Car parking spaces are available for a fee and are subject to availability.
Your student room
fully furnished
rooms with toilet and shower
room with fridge
cable television connections
communal kitchens
Living right next to your university or working place, smelling freshly cut grass, and letting your gaze sweep across nature while drinking your morning coffee: that's possible at the affordable and modern student accommodation ÖJAB-Haus Eisenstadt in Burgenland. Its modern, light-flooded student rooms combine a comfortable student dorm experience with a relaxing oasis of greenery right outside.
To help make sure that your free time at our student accommodation remains your free time, room cleaning service, high-speed Internet access, electricity, heating, and use of the fitness room are included in your room fee at a fair price.
360°-VIEW:YOUR STUDENT ROOM
A home for students in a central location
The city bus "Fanny" takes you to the railway station and the bus "Vitus" takes you back in just 4 stations each way (or you can take a ca. 15-minute walk). City busses and the ÖBB postbusses will take you right from your student accommodation to the center of town (Domplatz). And the Joseph Haydn Conservatory is likewise an easy trip by city bus. A very practical amenity is the City Taxi Card, which lets you get everywhere within the Eisenstadt city limits for just 2.50 €. And for getting to Vienna, which is a ca. 1-hour trip, there are hourly rail and bus connections. The dorm itself is located at Technologiezentrum Eisenstadt with its wide range of shopping and leisure offerings for students.
With UAS Burgenland and the teachers' college PH Burgenland practically at your doorstep of your low priced home for students, living here a student is easy. And the bus station's proximity means you have a direct city bus connection to the Province of Burgenland's Joseph Haydn Conservatory.
By foot, it's a lightning-fast trip to the shopping center Einkaufszentrum Eisenstadt.
ÖJAB-Haus Eisenstadt
Student Dormitory

Campus 2
A-7000 Eisenstadt, Austria
Eco-friendly student housing in Eisenstadt
This modern and affordable student accommodation in Burgenland is home to students from all Austrian provinces, all of Europe, and beyond. It's also home to young workers who found a job in Eisenstadt and environs.
ALL HIGHLIGHTS OF THE HOUSE
library
café/bar
party room
television room
game room with table soccer
table tennis
event room
community room
WLAN
LAN
laundry room
bicycle storage place
car parking
fitness room
sauna
music practice rooms
garden
green space nearby
ecology
Meet up and get to know other students at your dormitory: The generously dimensioned kitchens and common areas invite residents to spend time together. And cozily furnished student rooms provide sufficient opportunity for everyone to study and relax after a strenuous day of work or a long university day.
A special feature of this low priced and eco-friendly student dorm is theKosmopolitische Bibliothek (Cosmopolitical Garden), which is run in cooperation with Europahaus Burgenland and hosts regular lectures and discussion events on interesting sociopolitical, social, and literary themes.
Sustainable? Naturally! In order to protect the environment, part of this student accommodation's energy comes from a solar thermal energy system.
360°-VIEW: COMMUNAL ROOMS
MONTHLY USE FEES
Prices for the academic year of 2021/2022 (valid from 1 Sep. 2021)
Place in Twin room (double room): 252,00 Euro.
Single room: 373,00 Euro.
Single room flat: 402,00 Euro.
Fees are monthly and per person and include heating, electricity, free high-speed Internet access (WLAN and LAN), monthly phone fee (fixed line network), TV connection, and room cleaning service. Car parking spaces are available for a fee and are subject to availability.
Deposit:
Single room: 450,00 Euro
Twin room: 450,00 Euro
Click here for further information about online registration for student housing and additional charges.
THE HOUSE MANAGER
We're available onsite to help you!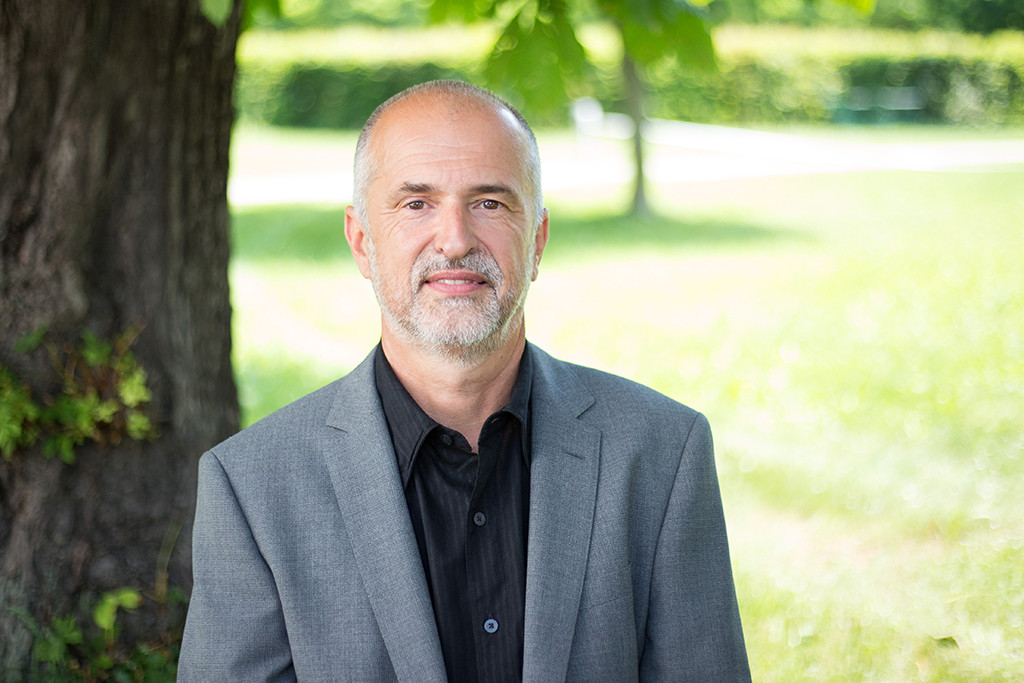 House manager Peter Winkler
After having already spent many years working for ÖJAB in Vienna, I moved to Burgenland's capital city when the dorm

ÖJAB-Haus Eisenstadt opened in 2003.

I try to live in a way that demonstrates a maximally open worldview, and I take great interest in political, social, and environmental developments all around our globalized world.

In my free time, I frequently seek out nature – jogging or cycling in the vineyards between Eisenstadt and Rust, or going for a sail on Lake Neusiedl. And from time to time, I'm also fond of just curling up with a good book.

Peter Winkler
ÖJAB-Haus Eisenstadt
Student Dormitory

Campus 2
A-7000 Eisenstadt, Austria
contact & Address
ÖJAB-Haus Eisenstadt
Student Dormitory
Campus 2
A-7000 Eisenstadt, Austria

Telephone: +43 2682 72190-598
E-Mail: eisenstadt@oejab.at
Web address: www.oejab.at/eisenstadt
Office hours:
Monday, Tuesday and Thursday 8.00 - 17.00
Wednesday 8.00 - 13.00
Friday 8.00 - 14.00