Dr. Rudolf Kirchschläger
(1915 – 2000)
The man who served as Austria's federal president from 1974 to 1986 was not only an honorary member of the Austrian Young Workers' Movement (ÖJAB) but also an advocate, advisor, and patron of our organization for several decades and up to the very end of his life.
Kirchschläger's close relationship with ÖJAB began quite early on. Even prior to his assumption of the federal presidency, he was a welcome guest at various events held at ÖJAB's Europahaus Vienna (today's ÖJAB-Europahaus Dr. Bruno Buchwieser), at one of which he also got to know ÖJAB's founder and then-president Bruno Buchwieser.
Kirchschläger subsequently worked to help transform the activities of the original Europahaus into those of a "European Academy", in the process of which he also got to know ÖJAB's other areas of work: student and youth dormitories, nursing homes for seniors, development cooperation, and refugee assistance. Many of these areas were of personal concern to Kirchschläger, and it was important to him that ÖJAB, as a private association, was working to fill such gaps in Austria's social safety net.
In 1988, ÖJAB decided to name a student dormitory after Rudolf Kirchschläger, and Austria's Conference of Provincial Governors ceremonially "dedicated" this dormitory to Dr. Kirchschläger upon the conclusion of his final term as Austrian Federal President:
ÖJAB-Haus Dr. Rudolf Kirchschläger, Schelleingasse 36, 1040 Vienna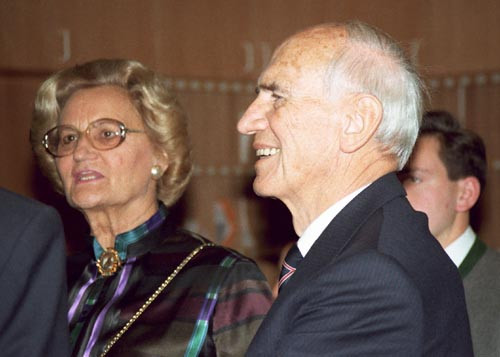 Dr. Rudolf Kirchschläger with his wife Herma.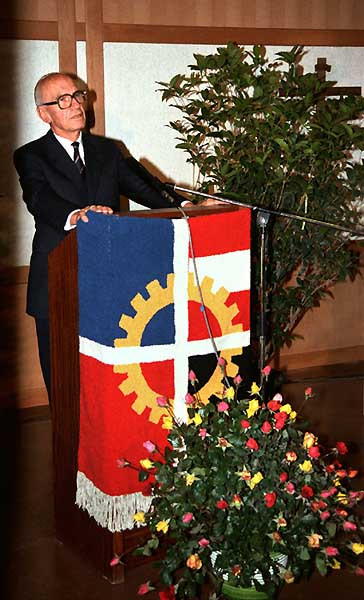 Rudolf Kirchschläger at the ÖJAB speaker's podium
All of Austria's federal provinces joined together to finance and help support the dormitory ÖJAB-Haus Dr. Rudolf Kirchschläger, and Kirchschläger visited the dormitory and "his students" on a regular basis.
ÖJAB celebrated Kirchschläger's 75th birthday by introducing the Dr. Rudolf Kirchschläger Scholarship for residents of the dormitory according to criteria stipulated by Kirchschläger himself: social need and good performance as a student. It was always important to Kirchschläger to hand over the award and get to know the scholarship recipients personally.
When ÖJAB's founder and longtime president Bruno Buchwieser passed away in December of 1993, many people doubted whether ÖJAB as a whole would continue to exist. Kirchschläger was not one of them. In numerous public appearances, he continued to promote ÖJAB's efforts for the common good and emphasized the significance of its charitable work in Austria. This support was typical of Kirchschläger and essential for ÖJAB's survival.
Even during the final years of his life, Kirchschläger maintained close contact with ÖJAB and with "his" student dormitory. And following his death on 30 March 2000, his widow Herma Kirchschläger maintained contact with ÖJAB until she passed away in 2009, repeatedly visiting ÖJAB-Haus Dr. Rudolf Kirchschläger and personally awarding the Dr. Rudolf Kirchschläger Scholarship each year.