History
How did ÖJAB come to exist?
ÖJAB (the Austrian Young Workers' Movement) was founded by Dr. Bruno Buchwieser in 1946.
At the time, Dr. Buchwieser was working for his parents' con­struction firm as a site manager for the reconstruction of St. Stephen's Cathedral in Vienna. The Buchwieser firm em­ployed a great number of young workers there from different parts of Austria who had come to bombed-out Vienna in search of work.
To resolve the issue of accommodating these young workers, Dr. Buchwieser and friends set up a hostel of sorts in a bomb ruin on Himmelpfortgasse in Vienna – which ended up becoming first dormitory of the Austrian Young Workers Movement (see gallery at right).
The "Young Workers Movement" itself was born when a society of young people formed at this dormitory – people who sought to help each other and work toward common goals.
Further dormitories were founded in Vienna and then in other Austrian cities, as well; these facilities provided young people with a home-away-from-home in the places where they'd come to study.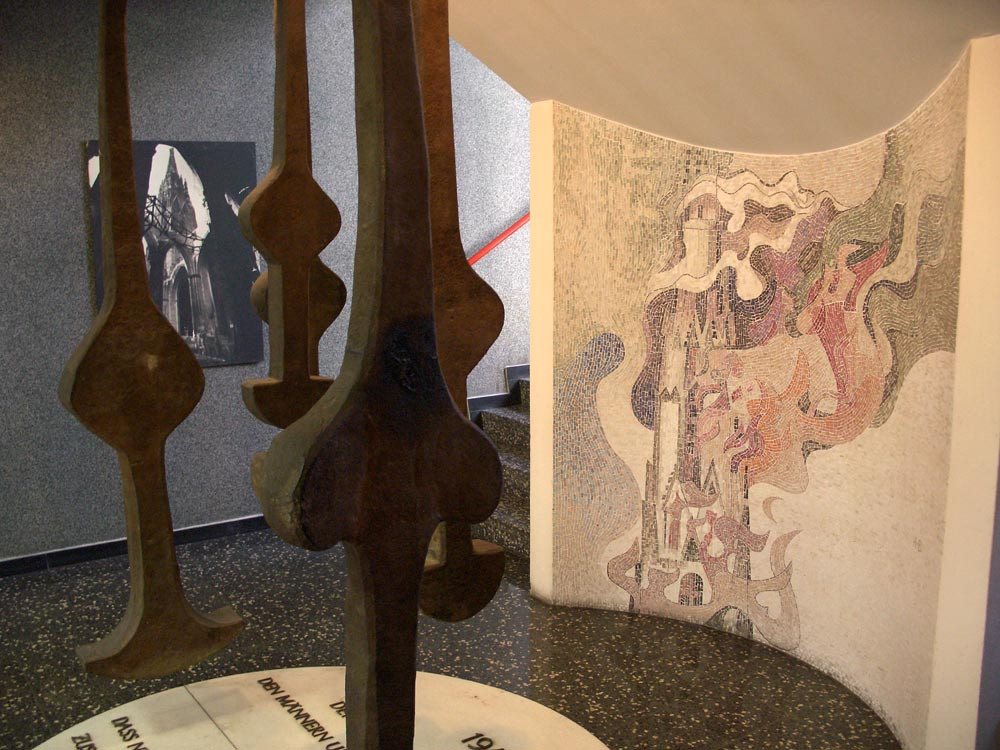 Historic bell clappers from St. Stephen's in the entrance area of ÖJAB's Head Office.
A fire in 1945 ended up virtually destroying St. Stephen's Cathedral in Vienna, taking with it the cathedral's baroque-period bells. Only the bells' clappers survived. Since 1980, these clappers from the old St. Stephens Cathedral bells have been displayed in the ÖJAB Head office at Mittelgasse 16, A-1060 Vienna (photo at left).
The mosaic behind the clappers, which was created by Hermann Bauch, depicts the fire at St. Stephen's Cathedral.
The fundamental ideas behind ÖJAB are clear to see in the association's coat of arms-like logo:
The red-white-red field represents the Austrian flag as an affirmation of Austria as a country.
The black, red, and blue fields stand for the three political parties that were represented in parliament during ÖJAB's initial years – as a sign of political independence.
The cogwheel is a symbol of labor as a unifying factor, with the underlying main goal of giving youth a chance.
The implied cross at the center symbolizes humanism on the basis of a Christian worldview.