Dr. Bruno Buchwieser
(1919 – 1993)
ÖJAB's Founder and Longtime President
Bruno Buchwieser was born in Vienna to the architect and construction manager Bruno Buchwieser Sr. and his wife Helene on 5 November 1919.
In 1941, while simultaneously serving in the Wehrmacht's administration as an individual who had been wounded in battle, he commenced his university studies at the Academy of World Trade (today's Vienna University of Economics and Business). Following graduation, he continued at the University of Vienna's Faculty of Law. On 6 April 1945, Buchwieser earned his doctorate in economics (Dr.rer.pol.) on top of his previously earned business degree.
1946 saw his parents' firm send him onsite to head the reconstruction project at St. Stephen's Cathedral in Vienna, which had suffered severe damage at the conclusion of World War II. Over the course of this work, he ended up cooperating with young workers to turn a bombed-out building into a dormitory, a project that marked the birth of ÖJAB – the Austrian Young Workers Movement (Österreichische Jungarbeiterbewegung).
Bruno Buchwieser went on to serve as ÖJAB's president until his death in 1993, carrying out social projects for young people and (later on) for the elderly, as well:
Youth and student dormitories with a convivial, family-like atmosphere – places fit to uphold the guiding principle of "giving youth a chance".
Early advocation of a united Europe and creation of the "Europahaus" institutions in Austria.
Development cooperation projects in Upper Volta (today's Burkina Faso) and other countries.
Nursing homes for seniors with activating, holistic care.
For young families, Bruno Buchwieser set up a Family Fund (later known as the "Aufbauwerk" of ÖJAB). And following the death of his father in 1960, Buchwieser single-handedly assumed responsibility for the family business. By that time, Buchwieser's charitable work had come to enjoy widespread recognition: among other things, he received the City of Vienna's Dr. Karl Renner Prize for his Young Worker's Village in the village of Hochleiten just outside of Vienna, the Republic of Austria's Silver Decoration for Service to the Republic of Austria (1960), and numerous prestigious awards from Austria's federal provinces.
Buchwieser's tenure as ÖJAB president saw the Austrian Young Workers' Movement grow into an important social organization in Austria.
Dr. Bruno Buchwiesers Schwester Prof. DI Architektin Helene Koller-Buchwieser (1912 – 2008) war eine erfolgreiche Architektin in Österreich und eine der ersten Frauen, die diesen Beruf ausübten. Auch in der ÖJAB wirkte sie mit. Beispielsweise war sie erste Bauleiterin für den Wiederaufbau des Wiener Stephansdoms und plante das Jungarbeiterdorf Hochleiten.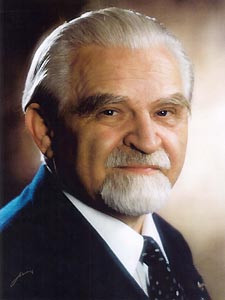 Dr. Bruno Buchwieser
A European Visionary
It was quite early on, at the beginning of the 1960s, that Bruno Buchwieser adopted a united Europe as a central hope and vision for the future. At his own initiative and backed up by the Young Workers' Movement, the early 1960s saw the establishment of the first Europahaus ("Europe House") facilities in Austria – in Eisenstadt, Graz, Salzburg, Klagenfurt, and Vienna. These places would play a pioneering role in the process by which Europe subsequently began growing together. To this day, just like back then, these sites host Europe-related educational events including adult education and continuing education offerings for the most varied target groups.
The Europe Houses in Austria and in other countries (of which there are now around 130) were eventually united under the umbrella organization Fédération Internationale des Maisons de l'Europe – FIME (the International Federation of Europe Houses), which was founded by the Council of Europe. Bruno Buchwieser served as president of the FIME from 1964 to 1986.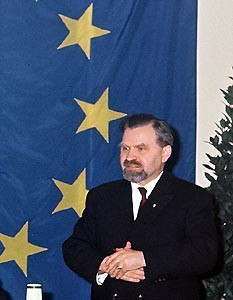 Bruno Buchwieser at a Europe-related ÖJAB event during the 1960s.
A Pioneer of Development Cooperation
Bruno Buchwieser's international work also extended beyond Europe. In 1961, his Austrian Young Workers' Movement initiated development cooperation projects for the West African country of Upper Volta (today's Burkina Faso). Buchwieser thus broke new ground in terms of development cooperation in this country, and Upper Volta acknowledged his efforts by naming him General Consul in 1966 and awarding him the National Order of the Republic of Upper Volta in 1977.
In his later years, Buchwieser worked to create a home for the aged: it was thus that ÖJAB opened ÖJAB-Haus Neumargareten in Vienna in 1983, the senior citizens' residence ÖJAB-SeniorInnenwohnanlage Aigen in Salzburg in 1991, and the ÖJAB-Haus St. Franziskus in Güssing, Burgenland in 1993.
Just a few months following this last opening, on 15 December 1993, Bruno Buchwieser passed away in Hochleiten. Since then, younger generations have been carrying forward Buchwieser's life's work – the Austrian Young Workers' Movement – according to his ideals.
In honor of its founder, ÖJAB named one of its largest dormitories after him: the ÖJAB-Europahaus Dr. Bruno Buchwieser at Linzer Straße 429, 1140 Vienna.
Bruno Buchwieser's sister Prof. DI Architektin Helene Koller-Buchwieser (1912 - 2008) was a successful architect in Austria and one of the first women to practice this profession. She was also involved in the ÖJAB. For example, she was the first construction manager for the reconstruction of St. Stephen's Cathedral in Vienna and planned the "Jungarbeiterdorf Hochleiten" (Hochleiten Young Workers' Village).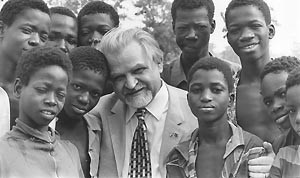 Bruno Buchwieser with children in Upper Volta (now Burkina Faso), 1970s.