ÖJAB-Haus St. Franziskus
Residence and Nursing Home in Güssing
ÖJAB-Haus St. Franziskus is a residence and nursing home in southern Burgenland that aims to serve as an extension of residents' families.
Our foremost goal is to offer high-quality nursing care and assistance to older people who can no longer live on their own. The qualified and caring employees of ÖJAB-Haus St. Franziskus are committed to accompanying residents through this part of their lives in a holistic and warmhearted manner. Furthermore, numerous different activities provide residents with truly beneficial offerings in an esteeming atmosphere. Our team is conscious of the great responsibility that working for and with people involves.
Individuals' sense of well-being and security are at the center of our efforts. The guidelines for our daily work here hark back to this institution's patron saint, Francis of Assisi, and to ÖJAB's humanitarian philosophy.
To learn more about this residence, please visit the German-language version of this page by clicking on "DE" in the top right corner.
Contact
+43 3322 43852

+43 3322 43852-22
MANAGEMENT AND RESIDENTS' SERVICE

RESIDENTS' SERVICE

Hier wirst du eine Google-Map mit Standort NM sehen
Wohn- und Pflegeheim
Pater Anton Bruck-Weg 1
7540 Güssing
Contact & Address
ÖJAB-Haus St. Franziskus
Wohn- und Pflegeheim
Pater Anton Bruck-Weg 1
7540 Güssing

Telephone: 03322 43852
E-Mail: stfranziskus@oejab.at
Web address: www.oejab.at/stfranziskus
Office hours:
Monday to Friday 07:00 to 15:30
Friday 07:00 to 12:00

The office is closed on Saturdays, Sundays, and holidays.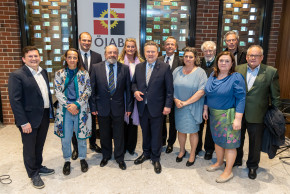 News
Wednesday, 17.5.2023
Feierliche Eröffnung des ÖJAB-Pflegewohnhauses Neumargareten und des ÖJAB-Hauses Remise
Details