Austrian-Japanese Youth Exchange ÖJJ
ÖJAB is a Member Organization of the Association "Österreichisch-Japanischer Jugendaustausch" (ÖJJ) - www.oejab.at/oejj
This Austrian-based association, in cooperation with the Japanese youth organization Kai-You-Kai, organizes youth exchanges between Austria and Wakayama (near Osaka) in Japan.
Every other year in summer a group of ten to twelve young people from Austria travels to Japan. Alternately a Japanese group of the same size travels to Austria the following year. The length of the stay is about two weeks.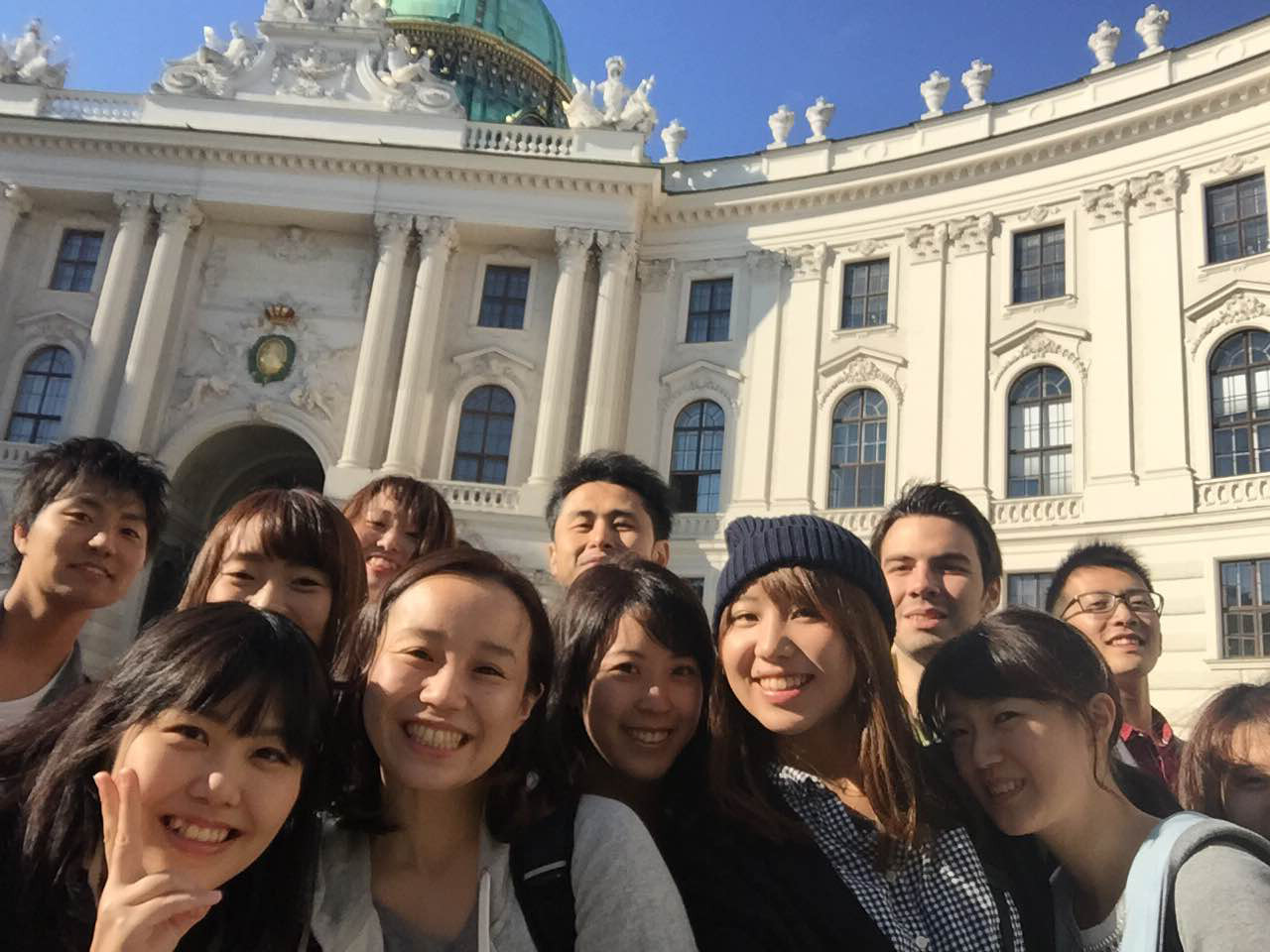 Young Japanese in Vienna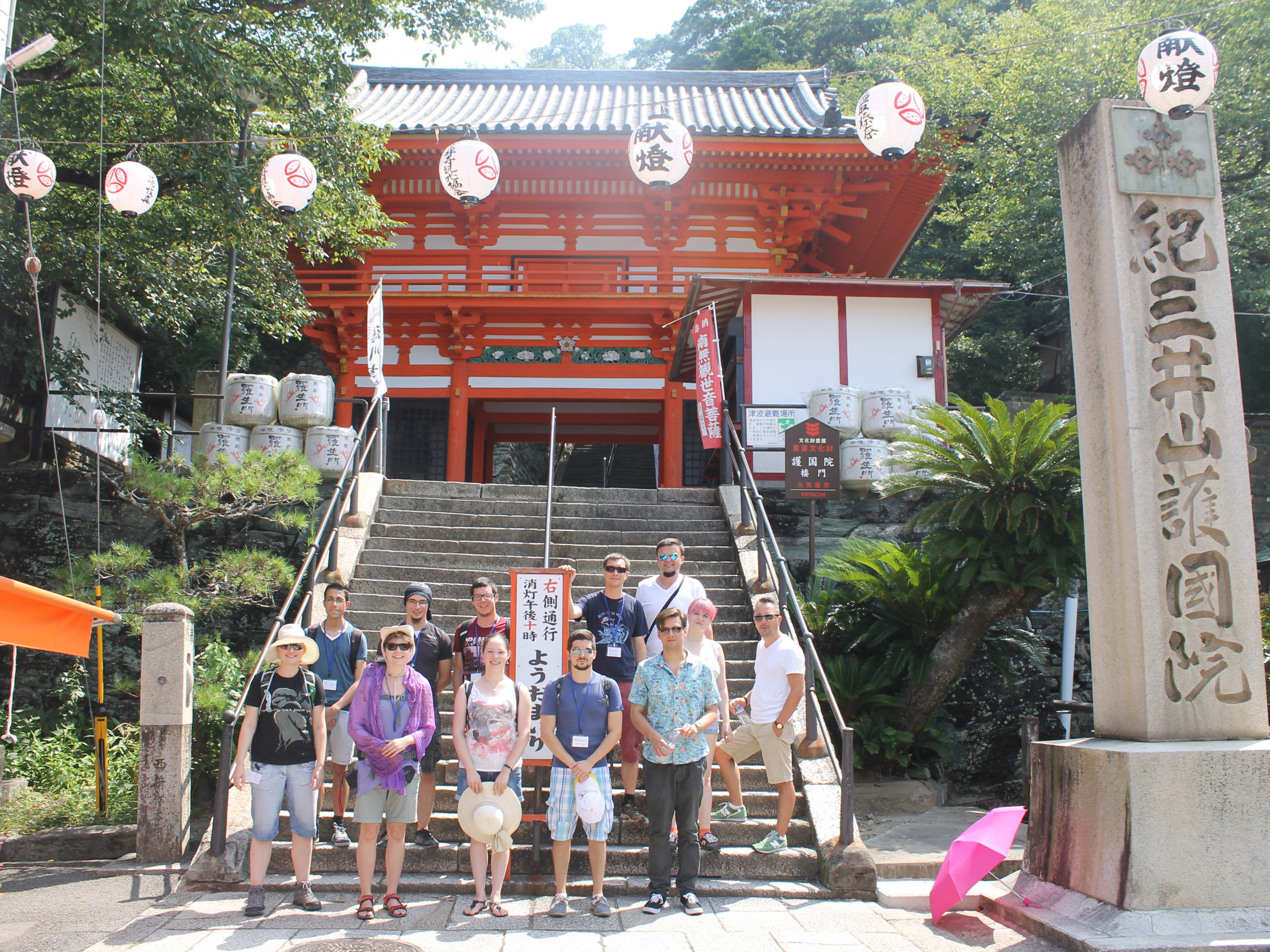 Young people from Austria in Japan
The length of stay each is about two weeks.
The exchange programs are noncommercial, mostly organized by volunteers and supported by sponsors and donations. The main sponsors are the hosting organizations, ÖJJ in Austria and Kai-You-Kai in Japan. The participants pay a cost contribution that mainly covers the flight ticket.
The goal of this youth exchange is to show young people the other country's culture, history and way of life in a way that regular tourists are not able to. Ultimately, this experience enables the participants to get a comprehensive understanding of each other and develop lasting transnational friendships. Therefore, the program does not only include "regular" sights, but also visits at educational institutions, meet-ups with young locals and most notably staying a couple of nights with host families to get to know the typical everyday life of the hosting country.
Usually participants going to Japan are those young people who were voluntarily helping host the Japanese guests the previous year or are looking to do so in the following year.
How can one participate in the Austrian-Japanese Youth Exchange?
The Austrian-Japanese Youth Exchange is primarily supported by its two member organizations ÖJAB and the Austrian-Japanese Society (ÖJG). Hence 18 to 30 year-old members affiliated to one of these two organizations or the third member organization Österreichisches Ferienwerk take priority. People affiliated to ÖJAB include persons living in one of ÖJAB's student dormitories or did so in the past, persons attending courses in the Education & Integration sector and persons being members of ÖJAB. To become a member of the Austrian-Japanese Society one has to join via www.oejg.org.
Coronavirus Pandemic: No Youth Exchange possible until further Notice
Due to the health risks related to the worldwide spread of COVID-19 and due to international travel restrictions, it is unfortunately not possible until further notice to carry out youth exchange trips like the last one in 2019 (see below).
We hope to be able to do a restart of youth exchange activities in 2023.
More information: Wolfgang Mohl, japan@oejab.at, 01 5979735-826.
Looking back: Youth exchange 13th – 22nd September 2019
From Friday 13th September 2019 to Sunday 22nd September 2019 a group of 11 young Japanese was sent by Kai-You-Kai to visit Austria. The program included activities in Vienna, Salzburg and Bratislava amongst others and also a weekend with Austrian host families, from Friday 20th September to Sunday 22nd September morning.

Support the youth exchange with Japan!
The Austrian-Japanese Youth Exchange is looking for donors to be able to finance the material costs of the program in the upcoming years. Assist to make this exchange possible in the future and enable young people to make international experiences and friendships!
Information: Wolfgang Mohl, japan@oejab.at, 01 5979735-826
Donation account:
Account name: Österreichisch-Japanischer Jugendaustausch
Bank: Erste Bank der oesterr. Sparkassen AG
IBAN: AT30 2011 1840 3542 6600
BIC: GIBAATWWXXX
Contact
The association ÖSTERREICHISCH-JAPANISCHER JUGENDAUSTAUSCH – ÖJJ
Main office address: Mittelgasse 16, 1060 Wien. ZVR-number: 695062674. Web: www.oejab.at/oejj
E-Mail: japan@oejab.at
Member organizations:
ÖJAB – Österreichische Jungarbeiterbewegung
Österreichisch-Japanische Gesellschaft (www.oejg.org)
Österreichisches Ferienwerk
Managing board:
Chairman: Mag. Wolfgang Mohl (ÖJAB)
Telephone: 01 597 97 35-826
First Vice chairman: Ing. Karl Steinböck (Österreichisch-Japanische Gesellschaft)
Second Vice chairman: Nikolaus Petronczki, BA (ÖJAB)
Secretary: Nikolaus Petronczki, BA (ÖJAB)
Deputy secretary: Ines Lagler, MA, M.A. (ÖJAB)
Treasurer: Kesandra Jakob, BSc (ÖJAB)
Deputy treasurer: Barbara Bergauer (ÖJAB)
Further management members (alphabetical order): Coco Akdedian (ÖJAB), Thomas Angster, BA (ÖJAB), Mag. Renate Neundlinger (ÖJAB), Mag. Konrad Prommegger (ÖJAB), Werner Wiessböck (Österreichisch-Japanische Gesellschaft)
Internal audit:
Rechnungsprüferin: Mag.(FH) Bettina Pöltl (ÖJAB)
Rechnungsprüferin-Stellvertreter: Dieter Fröhlich (ÖJAB)

Honorary chairman: Eduard Schüssler