ÖJAB-Haus Remise
Student and Youth Dormitory
New since Winter Semester 2022/23! Viennese Student and Youth Dormitory for all Young People studying at Universities, Universities of Applied Sciences, Schools, Colleges for Higher Vocational Education, Vocational Schools, etc.
1120 Vienna, Hermi-Hirsch-Weg 4

87 places

All year round student and youth dormitory in Vienna's 12th district (Meidling).

room types: Single room
highlights of the house:
WLAN
LAN
laundry room
green space nearby
from 560,00€/person per month
For a place in a student room including heating, electricity, free high-speed Internet access, TV connection, and room cleaning service.
ÖJAB-Haus Remise
Student and Youth Dormitory

Hermi-Hirsch-Weg 4
1120 Vienna
Outdoor view of the low priced student housing in the 12th district of Vienna.
The Student and Youth Dormitory in Vienna (12th District)
The brand-new ÖJAB-Haus Remise is a special dormitory for teenagers, apprentices, university students, and all other young people enrolled in courses of education and training. 87 ultramodern single rooms with large, bright windows offer a perfect environment in which to learn and study. With in-room kitchenettes as well as inviting shared kitchens, this modern student and youth dormitory in Vienna offers lots of comfort.
Whether for school students, university students with e-learning workloads, or young digital nomads and startup team members working from home: fast Internet connections (WiFi and LAN) and comfortable private spots to withdraw round out the offerings of this peaceful oasis in Vienna's 12th district. What's more, this exceptionally quiet setting in the midst of the city, situated between Matzleinsdorferplatz and the Meidling train station and right near where the districts of Favoriten, Margareten, and Meidling meet, is at the same time central enough to make any Viennese location a quick trip. And for those who get the munchies now and then, we're setting up 24/7 snack machines in the entrance area.
THE DORMITORY AT THE NEW LEBENSCAMPUS WOLFGANGGASSE
This dormitory is located directly at the City of Vienna's newly constructed urban redevelopment project Lebenscampus Wolfganggasse, which is set to become a diverse neighborhood with a variety of housing types for young and old, all kinds of educational institutions, shops, and a Catholic parish. This combination sets the stage for inclusion and lively diversity. And right by the youth dormitory, ÖJAB is also adding an intergenerational apartment-sharing community, a senior residence and nursing home, its new home nursing support center, a vocational training center (BPI der ÖJAB) with language courses, training courses for technical occupations and further qualification, a school for nursing assistants (PSÖ), and lots more. You can obtain further information here.
VIENNA'S NEW EVENT LOCATION:
KRAFTGARTEN REMISE
The dormitory is named after the former depot for trams ("Remise"), which is just a couple minutes' walk across the Lebenscampus Wolfganggasse. It is now being transformed by KRAFTMoments Development GmbH into the cultural and event location "Gleisgarten" - a Community Foodhall with up to nine restaurants, its own brewery, three stages for concerts, cabaret, etc., an indoor playground, 650 seats in the green interior and 350 seats outdoors, with arts and crafts markets and art exhibitions.
STUDENT HOUSING AT REASONABLE PRICES
Prices for the Academic Year of 2023/2024 (valid from 1 Sept. 2023)
Single Economy+: 560,00 Euro
Single room. Shower+toilet and kitchen in the residential unit (shared use with two people).
Single Economy+: 580,00 Euro
Single room. Shower+toilet and kitchen in the residential unit (shared use with one person).
Single Premium: 620,00 Euro
Single room. Shower+toilet and kitchen in the room.
Fees are monthly and per person and include heating, electricity, free Internet access, TV connection, and room cleaning service.
Deposit: The deposit amounts two monthly usage fees.
Click here for a detailed description of room categories in all ÖJAB dorms.
Click here for further information about online registration for student housing and additional charges.
The House Manager
We're available onsite to help you!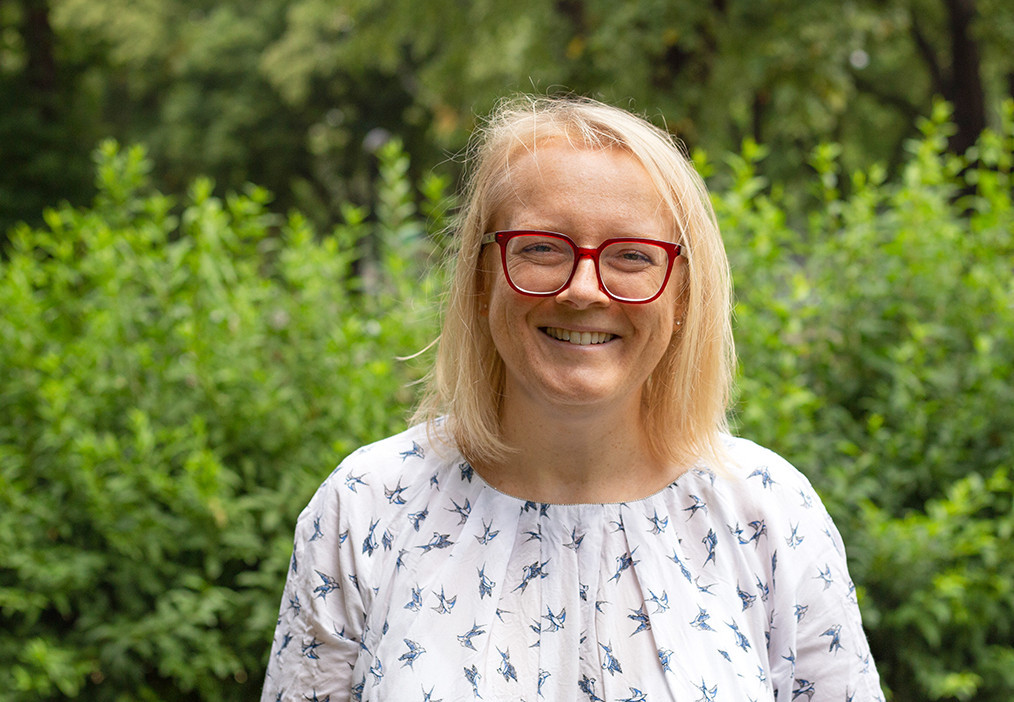 Heimleiterin Iwona Lewinsky
I did my apprenticeship in the hotel and hospitality industry and, via stations in the event, sales, and the marketing sector and work in a bank, I switched to the social sector, where I have been working since 2007. After my further training as a social manager and managerial tasks in care of seniors, projects with young people led me to ÖJAB. Since 2019 i have been work as an assistant to the house manager at ÖJAB-Haus Meidling.

In my free time i like to visit museums, galleries, art exhibitions, readings and music is also important to me.

My motto: "Happiness is the only thing that doubles when you share it."

Since 2022 I look forward to welcoming you as the home manager to the ÖJAB-Haus Remise.

Iwona Lewinsky
ÖJAB-Haus Remise
Student and Youth Dormitory

Hermi-Hirsch-Weg 4
1120 Vienna
CONTACT & ADDRESS
ÖJAB-Haus Remise
Student and Youth Dormitory
Hermi-Hirsch-Weg 4
1120 Vienna
Telephone: +43 1 361 80 30 0
E-Mail: remise@oejab.at
Web address: www.oejab.at/remise
Office hours:
Monday to Wednesday 9:00 to 11:00
Friday 9:00 to 11:00