ÖJAB-Haus Graz
student dormitory
8010 Graz, Glacisstraße 39-41

215 places

all year round student housing in Graz

room types: Single room in shared apartment, Bed in Twin room in shared apartment
highlights of the house:
LAN
laundry room
bicycle storage room
fitness room
sauna
music practice rooms
green space nearby
from 298,00€/person per month
For a place in a student room including heating, electricity, free high-speed Internet access (LAN), TV connection, and room cleaning service.
Your student room
fully furnished
rooms with toilet and shower
cable television connections
room with fridge
communal kitchens
With your low priced fully furnished Single or Twin student room as a home base, you'll find Graz's city center's doors wide open. This modern kind of student housing is located right by the Stadtpark and the Burggarten. Its modern, light-flooded rooms combine a comfortable student dorm experience with a relaxing, well-connected oasis of peace.
To help make sure that your free time at our student accommodation remains your free time, room cleaning service, high-speed Internet access, electricity, heating, and use of the fitness room are included in your room fee at a fair price.
360°-view: Your student room
Everything at a glance!
The right location, price overview of all ÖJAB dorms, all ÖJAB locations close to universities, highlights of all our houses…
Student living next to the Campus in a central location
Affordable student housing right next to your university. The low priced and modern student accommodations of ÖJAB make it possible!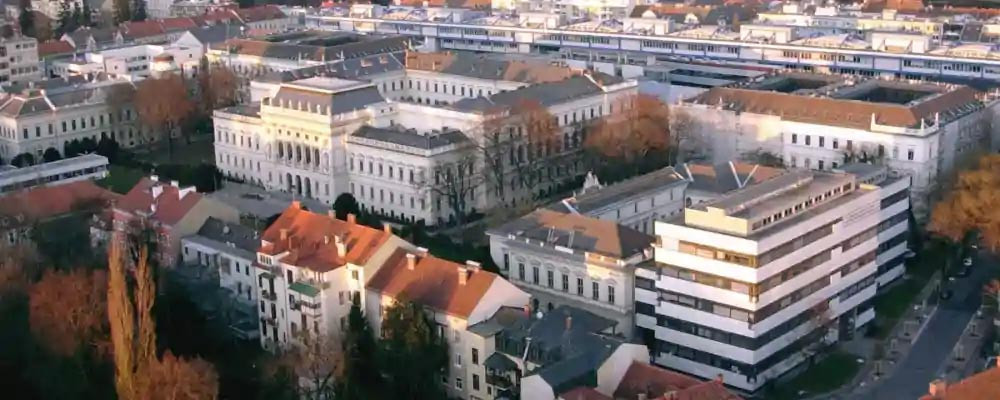 A home for students in a central location
Tram lines 1 and 7, bus lines 30, 31, 39, 41, and 63, Flixbusses and regional busses
The great thing about living at our student accommodation near the center of Graz is that you can get everywhere very quickly. Perfect for your daily student life: A large number of universities are just a few stops away on public transportation. These include the University of Graz and its ReSoWi building (for the university's law and social sciences and economics faculties), the Graz University of Technology, the University of Music and Performing Arts Graz, and the Medical University of Graz.
Relax after a log day at university: The Burggarten and the Stadtpark are popular green recreational areas in central Graz. These plus the Schloßberg, the Murkai, and the easy bus connections to the surrounding area ensure that fans of the outdoors have lots of perfect paths for jogging, hiking, and cycling. Students who are into outdoor sports will enjoy living at this low priced dormitory in Graz.
Culture-lovers and party animals will love Forum Stadpark and the nearby Dom im Berg. What's more, the Graz Oper, the theater Schauspielhaus, and the gallery Kunsthaus Graz are just a stone's throw away … and countless student bars and clubs in direct proximity to the fashionable student housing at ÖJAB-Haus Graz are always worth a visit.
ÖJAB-Haus Graz
Student Dormitory

Glacisstraße 39-41
A-8010 Graz, Austria
Student housing in Graz
Looking for an individual student room for your individual lifestyle? The student accommodation ÖJAB-Haus Graz offers you concepts of living and housing with a proven history. Traditional dorm life with a shared kitchen is just as much an option as is having your own affordable student apartment entirely to yourself for a more complete private sphere. This fully renovated old building offers lots of individual features, with nearly every room being unique.
ALL HIGHLIGHTS OF THE HOUSE
café/bar
party room
lecture room
study room
television room
community room
table tennis
LAN
laundry room
bicycle storage room
fitness room
sauna
music practice rooms
green space nearby
One would be hard-pressed to find a better location for a student housing in Graz than right here. For those aspects of student life that play out in the evening, this dorm is just 2 minutes by foot from the so-called University Quarter where student events and partys in Vienna take place regularly. And for whenever the green inner courtyard with its grill and pergola aren't enough, the sprawling Stadtpark is right across the street.
360°-VIEW: COMMUNAL ROOMS
Highlight overview of all ÖJAB locations
Student housing at reasonable prices
Prices for the academic year of 2021/2022 (valid from 1 Sep. 2021)
ÖJAB-Haus Graz, which occupies a protected historic building, is a special dormitory: it offers a great variety of different rooms. Therefore, we offer various categories of group apartments (WGs) that are designed for category-dependent numbers of individuals.
ROOM TYPE:
Place in a double room in a flat-share (Double Room) ECONOMY XL: 298,00 Euro
Single room in a flat-share (Single Room) ECONOMY: 408,00 Euro
Single room in a flat-share (Single Room) ECONOMY XL: 419,00 Euro
Single room in a flat-share (Single Room) ECONOMY SILENT: 432,00 Euro
Single room in a flat-share (Single Room) ECONOMY SILENT BALCONY: 441,00 Euro
Single room in a flat-share (Single Room) COMFORT SPECIAL SILENT: 461,00 Euro
Deposit:
Single Room: 772,00 Euro
Double Room: 572,00 Euro
Explanation
ECONOMY: Shower and toilet ensuite, communal kitchen on the floor.
COMFORT: Shower, toilet and kitchen ensuite.
XL: The room has an extra-large living space.
BALCONY: Access to a balcony or roof terrace.
SPECIAL: Private bath and toilet in the flat-share.
QUIET LOCATION: The room faces the courtyard, is in a quiet location for other reasons or is in the uppest floor.
Online Registration
In the online registration form, all you have to do is choose whether you prefer double-occupancy or single occupancy. And if you'd like a place to live that's in a certain category or that features certain criteria, please write this below in the field "Comments, special requests." We'll then send you a list with free places that match your wishes from which you can choose. This list will also show the monthly use fees, which vary according to category and your choice of criteria.
Further information:
All use fees are per person and per month including free Internet connection (150 GB, except if otherwise noted), heating, power, free TV connection with 100 TV channels and radio stations (EUR 50.00 deposit for the connection box), room cleaning at least every second week (variations may occur during school breaks). The washing machines are located in the laundry room (lower level), and their use is included in your fee. Refrigerators are shared with a maximum of one other person.
Click here for further information about online registration for student housing and additional charges.
THE HOUSE MANAGER
We're available onsite to help you!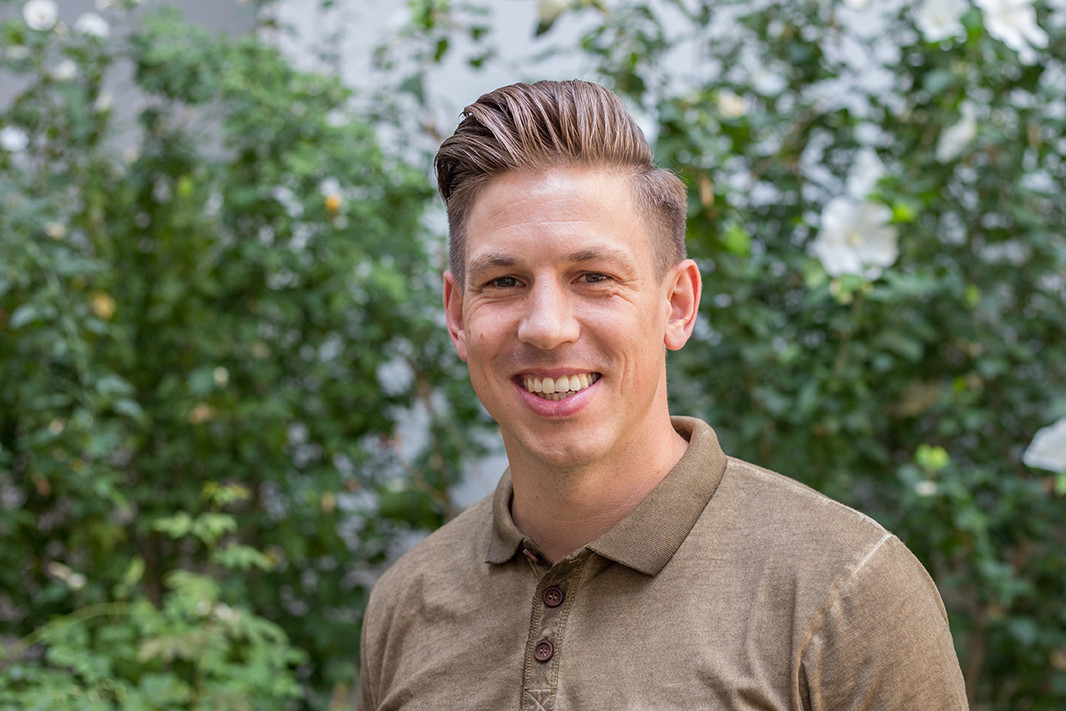 House manager Guido Orzetek
My name is Guido Peter Orzetek. I've been the house manager at the dormitory

ÖJAB-Haus Graz since 2012, I'm originally from Carinthia, and I've been living in Graz – where I did my degree in sustainability-oriented management – since 2006. In my free time, I'm fond of pursuing my athletic hobbies and getting together with friends.

My motto: For every problem, there's a solution.

Guido Peter Orzetek, MSc.
ÖJAB-Haus Graz
Student Dormitory

Glacisstraße 39-41
A-8010 Graz, Austria
contact & address
ÖJAB-Haus Graz
Student Dormitory
Glacisstraße 39-41
A-8010 Graz, Austria
Telephone: +43 316 908416-0
E-Mail: graz@oejab.at
Web address: www.oejab.at/graz, www.studentenheim-graz.at
Office hours:
Monday, Wednesday and Friday 9:00 to 12:00
Tuesday and Thursday 18:00 to 20:00
(Short-term changes possible.)
You are welcome to visit us at other times, please contact us to fix a date! In urgent cases please contact graz@oejab.at.