ÖJAB-GreenHouse
Student and Youth Dormitory
1220 Wien, "aspern Seestadt", Sonnenallee 41

313 places

all year round student housing in Vienna (district Donaustadt)

room types: Single room, Twin room
highlights of the house:
WLAN
LAN
laundry room
bicycle storage room
fitness room
sauna
music practice rooms
garden
green space nearby
ecology
from 355,00€/person per month
For a place in a student room including heating, electricity, free high-speed Internet access (WLAN and LAN), TV connection, and room cleaning service.
Do you have questions about the house? Contact us! All contact information and office hours can be found at the bottom of this webpage.
Your student room
fully furnished
rooms with toilet and shower
room with fridge
cable television connections
communal kitchens
Your fully furnished Single or Twin student room is every bit as modern as the surrounding neighborhood. In these light-flooded rooms at our student housing, you'll have the peace and quiet you need to study, surf the Internet, bingewatch your favourite Netflix series, watch your favorite series, or just kick back and relax. Inside and out, the Seestadt neighborhood is a place where people feel good. It's perfect for students who want to live in a lively urban location with lots of leisure offerings. In every room of our low-cost home for students, you'll find a kitchenette with induction burners, refrigerator, and microwave. Moreover, our convenient common kitchens for students provide you with space for cooking together with others.
So that your free time really is your free time at our student accommodation, room cleaning service, high-speed Internet access, electricity, heating, and use of the fitness room are included in your room fee at a fair price.
360°-VIEW:YOUR STUDENT ROOM
All ÖJAB dormitories at a glance!
The right location, price overview of all ÖJAB dorms, all ÖJAB locations close to universities, highlights of all our houses…
Amidst Green Countryside
Live in the big city, enjoy the scent of freshly mown grass and let your eyes wander through nature while drinking your morning coffee: The modern and low-priced ÖJAB student accommodations make it possible!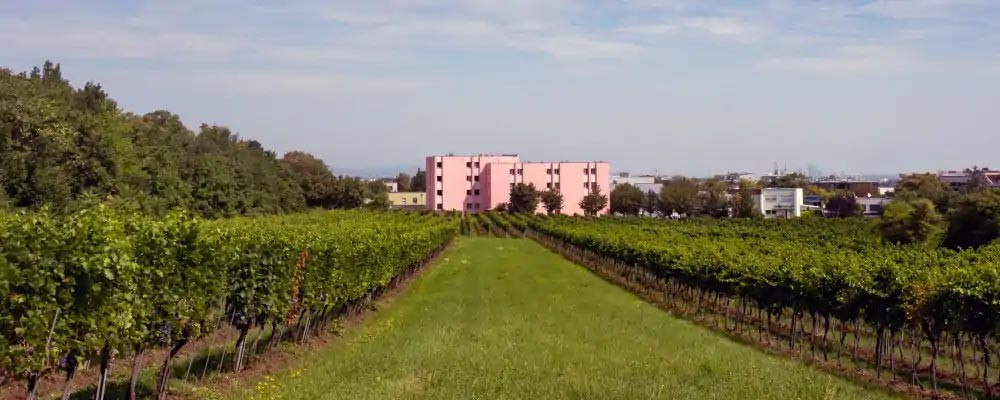 A home for students with green surroundings
U2, Bus 84A, 88A, 88B, 97A
The low priced ÖJAB student accommodations makes it possible for students to strike a balance between big-city action and life in green surroundings. During the day, public transportation provides connections right from your student dorm to the city center every ten minutes, and several universities are reachable without changing lines. These include the Vienna University of Economics and Business, the University of Vienna and its Altes AKH campus, TU Wien, Uni Seeburg, the Academy of Fine Arts, the University of Music and Performing Arts Vienna, and the Music and Arts University of the City of Vienna. And coming home late at night, the N26 will get you almost to the front door of your home for students in Vienna.
In Seestadt Aspern, living and working take place side-by-side: many residential buildings have shops, restaurants and bars, or workshops on their ground floors. The heart of Seestadt is the ca. 50,000 m2 lake with its surrounding park of almost the same size. Perfect for a relaxed afternoon after a long university day, especially as the lake is right next to your student housing. With its intensely blue, clear water, green lakefront, and a promenade, this area is Seestadt's unmistakable main motif. It's also a popular place to meet – for more people than just the residents here. Especially during the summer, lots of students turn out to enjoy the cool water, let their souls hang out, or do sports. And the neighborhood's residential area includes two community gardens: Gemeinschaftsgarten Madame d'Ora and the Seestadtgarten. Explore the student acommodations' neighbourhood and find everything you need for a balanced and exciting student life!
With the Asperner Terrassen, you've got a wonderful bit of nature for relaxing in your immediate vicinity. And you can also take advantage of the nearby Alte Donau or the Marchfeld area for an outing or recharge your batteries in the Lobau wetlands area (part of the Donau-Auen National Park), which is just a quick bike ride away from the low priced and modern home for students.
For students in Vienna who are into art and for culture enthusiasts, Seestadt is also an attractive place. The student event space Urbanes Feld plays host to open-air events and concerts during the summer months. The Notgalerie presents contemporary art and literature, while the FABRIK provides space for theatrical productions, exhibitions, lectures, and dance events in Vienna.
All ÖJAB locations close to your University
The eco-friendly student housing in Vienna (22nd District)
The student dormitory GreenHouse in Vienna is a textbook example of environmentally friendly construction and energy efficiency – with a photovoltaic array, an energy storage system, and energy-optimized architecture (high-performance thermal insulation, airtight building shell with controlled ventilation, etc.). This modern and affordable student dormitory produces all the energy it needs on its own (thus adhering to the international "Passivhaus" standard). And our objective is to actually produce more energy than we need for this sustainable home for students in order to feed this energy back into the electrical grid ("surplus energy") – allowing the GreenHouse to function as its own small power plant.
ALL HIGHLIGHTS OF THE HOUSE
lecture room
party room
table tennis
table soccer
television room
event room
meditation room
study room
terrace
WLAN
LAN
laundry room
bicycle storage room
fitness room
sauna
music practice rooms
garden
green space nearby
ecology
three differently colored structures:
The eco-friendy student housing at GreenHouse consists of three differently colored structures named for natural energy sources:
"Erde" (Earth) – run by ÖJAB
"Luft" (Air) – run by WBV-GPA Wohnbauvereinigung für Privatangestellte gemeinnützige Gesellschaft mit beschränkter Haftung
"Sonne" (Sun) – run by OeAD student housing – Österreichischer Austauschdienst-Wohnraumverwaltungs GmbH Wien
The house management of the entire student accommodation GreenHouse in Vienna is in the hands of ÖJAB. WBV-GPA also built this building. It was designed by aap.architekten ZT-gmbh.
AWARDS:
EUROSOLAR AUSTRIA awarded the GreenHouse with the Austrian Solar Prize 2020 in October 2020.
In early 2016, Austria's society for sustainable construction, ÖGNB (the Austrian Sustainable Building Council), awarded the GreenHouse 905 of 1,000 possible ÖGNB points and thus the appellation "ÖGNB GOLD".
And early 2016 also saw ÖGUT (the Austrian Society for Environment and Technology) award the GreenHouse its maximum 1,000 "klimaaktiv" points and thus "klimaaktiv GOLD".
In April 2016, the Institute "Passiv Haus Austria" recognized the GreenHouse as a certified "Passiv Haus Plus", with a "particularly high energy efficiency". It "makes an important contribution to climate-protection".
HISTORY:
The GreenHouse and the entire Seestadt Aspern development are built on historically and prehistorically significant ground. In connection with construction measures for this urban development project, the City of Vienna's Department of Urban Archeology found remains of an extensive late Neolithic settlement (ca. 3,200 BCE), a late Bronze Age settlement (ca. 1,200 BCE), and early modern graves of horses or soldiers from Napoleon's battle of 1809. Those interested in learning more can find a report by Vienna's Department of Urban Archaeology here:PDF (2,3 Kilobyte).
Film by the City of Vienna about the GreenHouse
360°-VIEW: COMMUNAL ROOMS
Highlight overview of all ÖJAB locations
Student housing at reasonable prices
Prices for the Academic Year of 2023/2024 (valid from 1 Sep. 2023)
Twin Premium: 355,00 Euro
Place in a twin room. Shower+toilet and kitchen in the room.
Twin XL Premium: 400,00 Euro
Place in a twin room. Shower+toilet and kitchen in the room. Extra large room.
Single Economy+: 510,00 Euro
Single room. Shower+toilet and kitchen in the residential unit (shared use).
Single Economy+|Barrier-free: 540,00 Euro
Single room. Shower+toilet and kitchen in the residential unit (shared use). Barrier-free room.
Single Premium: 540,00 Euro
Single room. Shower+toilet and kitchen in the room.
360°-VIEW:YOUR STUDENT ROOM
Fees are monthly and per person and include heating, electricity, free high-speed Internet access (WLAN and LAN), TV connection, and room cleaning service. (except final cleaning fee).
Deposit: The deposit amounts two monthly usage fees.
Click here for a detailed description of room categories in all ÖJAB dorms.
Clickhere for further information about online registration for student housing and additional charges.
THE HOUSE MANAGER
We're available onsite to help you!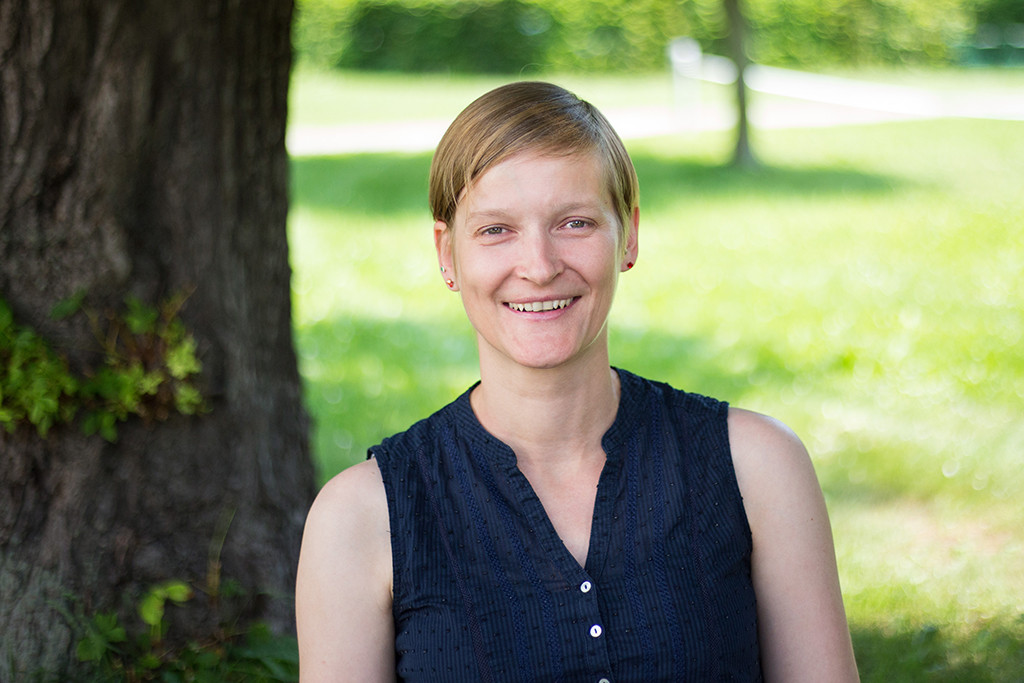 House Manager Judith Kittelmann
My name is Judith Kittelmann. When I moved from Burgenland to Vienna and into the dorm

ÖJAB-Haus Donaufeld in 1995, I had no idea that I'd still be part of ÖJAB over 20 years later. But in 2000, I took a job with the organization at ÖJAB-Haus Donaufeld. I worked there for 13 years, followed by over a year at the student dormitory

ÖJAB-Haus Dr. Rudolf Kirchschläger. Managing the GreenHouse at Seestadt Aspern represents a new challenge for me. I'm still very connected to my home province of Burgenland, and even if I (unfortunately) manage to do so less and less often, I still try to participate in performances and rehearsals of Tamburica Trausdorf, where I've been a member for nearly 30 years.

Mag. Judith Kittelmann
contact & address
ÖJAB-Greenhouse
Student and Youth Dormitory
"aspern Seestadt"
Sonnenallee 41
A- 1220 Vienna, Austria
Telephone: +43 1 8904004-10
E-Mail: greenhouse@oejab.at
Web address: www.oejab.at/greenhouse
Office hours:
Monday to Friday 8.30 to 13.00
Monday and Wednesday 14.00 to 16.00