ÖJAB-Haus Johannesgasse
Student and Youth Dormitory
1010 Wien, Johannesgasse 8

120 places

9 months student housing (from 1. October to 30. June) in Vienna (first district, old town)

room types: Single room, Twin room
highlights of the house:
LAN
WLAN
fitness room
laundry room
music practice rooms
green space nearby
from 435,00€/person per month
For a place in a student room including heating, electricity, free high-speed Internet access (WLAN and LAN), TV connection, and room cleaning service.
Do you have questions about the house? Contact us! All contact information and office hours can be found at the bottom of this webpage.
Your student room
fully furnished
rooms with toilet and shower
room with fridge
cable television connections
communal kitchens
Your low priced fully furnished Single or Twin student room combines the historic atmosphere of Vienna's baroque city center with modern comforts. The thick walls of this former abbey radiate pleasant warmth in the wintertime, while they help maintain a refreshingly cool temperature during the summer at the fashionable student accommodation. And when your windows are open, you'll hear the tolling of the bells of St. Stephen's drifting over softly on the breeze.
And so that your free time at our student accommodation really is your free time, room cleaning service, high-speed Internet access, electricity, heating, and use of the fitness room are included in your room fee at a fair price.
360°-VIEW:YOUR STUDENT ROOM
All ÖJAB dormitories at a glance!
The right location, price overview of all ÖJAB dorms, all ÖJAB locations close to universities, highlights of all our houses…
Amidst Green Countryside
Live in the big city, enjoy the scent of freshly mown grass and let your eyes wander through nature while drinking your morning coffee: The modern and low-priced ÖJAB student accommodations make it possible!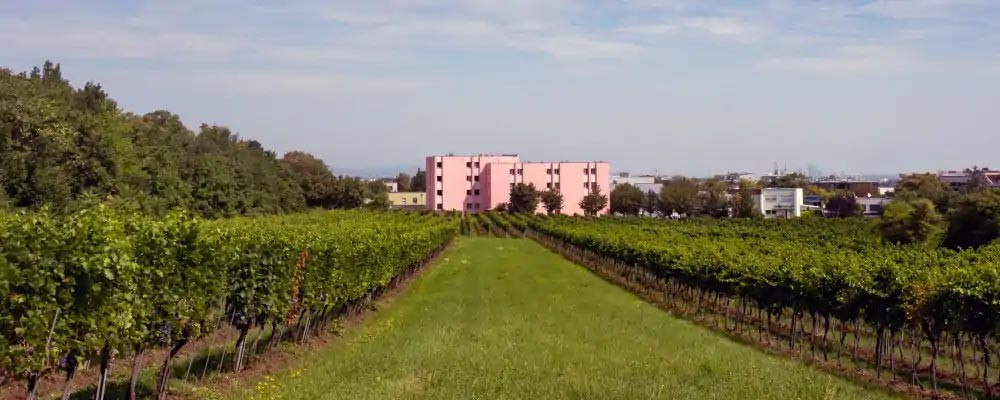 A home for students in a central location
Subway lines U1, U2, U3, and U4, regional rail lines S1, S2, S3, S4, S7, and S80 plus CAT, R, and WESTbahn trains, tram lines 1, 2, D, 46, 49, 62, and 71, and bus lines 2A, 3A, 4A, 57A, and 59A.
… and of course the horse-drawn carriages at St. Stephen's! ;-)
An advantage of living right at the center of Vienna is that you can get everywhere very quickly. Perfect for your daily student life: Most of the city's universities are just a few stops away on public transportation. These include the University of Vienna along with its Altes AKH campus and its Faculty of Law, the Vienna University of Economics and Business, TU Wien, Vienna Medical University, the Academy of Fine Arts, and the University of Applied Arts. And right nearby is the University of Music and Performing Arts Vienna, while the Music and Arts University of the City of Vienna is just a few meters away.
When you turn off Kärntnerstraße onto Johannesgasse, you leave Vienna's most touristy area behind you and find yourself amidst the old city's well-preserved charm – students love this area. Curvy streets, small restaurants, and cute little shops. At the same time, you have the city's rich cultural offerings – like the State Opera, the Hofburg, the Museumsquartier, the Albertina Museum, the Kunsthistorisches Museum, and the Naturhistorisches Museum, to name just a few – practically at the doorstep of your modern and affordable student housing in Vienna!
The public transit hub Wien Mitte provides access to regional rail service plus a direct connection to Vienna International Airport. And at the shopping center there, Wien Mitte – The Mall, you'll find everything you need as well as supermarkets that stay open longer in the evening and are even open Sundays.
The Stadtpark and the Burggarten are popular places for students to sit out on the grass, to study, and to meet friends. And it's an easy stroll to the Danube Canal: particularly during the summer months, this is a great place to enjoy cool drinks and dip your feet in the refreshing water.
All ÖJAB locations close to your University
Student housing in the centre of Vienna
The fashionable home for students ÖJAB-Haus Johannesgasse in Vienna is quite an unusual student dorm for more reasons than just its exceptional location at the heart of Vienna. This heritage-protected building, built between 1734 and 1745 by Anton Erhard Martinelli, used to be an abbey of the Ursuline nuns. In 2013, it was completely renovated and adapted as a modern student accommodation.
ALL HIGHLIGHTS OF THE HOUSE
community room
table tennis room
terrace
study room
LAN
WLAN
laundry room
fitness room
music practice rooms
garden
green space nearby
This student living also contains the Antonio-Vivaldi-Saal, one of Vienna's most beautiful concert venues. A peaceful green inner courtyard flanked by a sunroom provides a quiet place of retreat for students right at the center of town. Further baroque-era architectural gems in this building are the puppet theater "Theatrum Sacrum", a confessional chapel, and the preserved apothecary of the original baroque abbey. (See image gallery)
In the summertime, this building is run as the Apart Hotel "myNext Johannesgasse Apartments".
360°-VIEW: COMMUNAL ROOMS
Highlight overview of all ÖJAB locations
Student housing at reasonable prices
Prices for the Academic Year of 2023/2024 (valid from 1 Oct. 2023)
Twin Economy: 435,00 Euro
Place in a twin room. Shower+toilet in the residential unit (shared use). Communal kitchen on one's floor.
Twin Premium: 515,00 Euro
Place in a twin room. Shower+toilet and kitchen in the room.
Single Economy: 625,00 Euro
Single room. Shower+toilet in the residential unit (shared use). Communal kitchen on one's floor.
Single XL Comfort: 685,00 Euro
Single room. Shower+toilet in the room. Communal kitchen on one's floor. Extra large room.
Single XL Premium: 725,00 Euro
Single room. Shower+toilet and kitchen in the room. Extra large room.
360°-VIEW:YOUR STUDENT ROOM
Fees are monthly and per person and include heating, electricity, free high-speed Internet access (WLAN and LAN), TV connection, and room cleaning service.
Deposit: The deposit amounts two monthly usage fees.
Click here for a detailed description of room categories in all ÖJAB dorms.
Clickhere for further information about online registration for student housing and additional charges.
THE HOUSE MANAGER
We're available onsite to help you!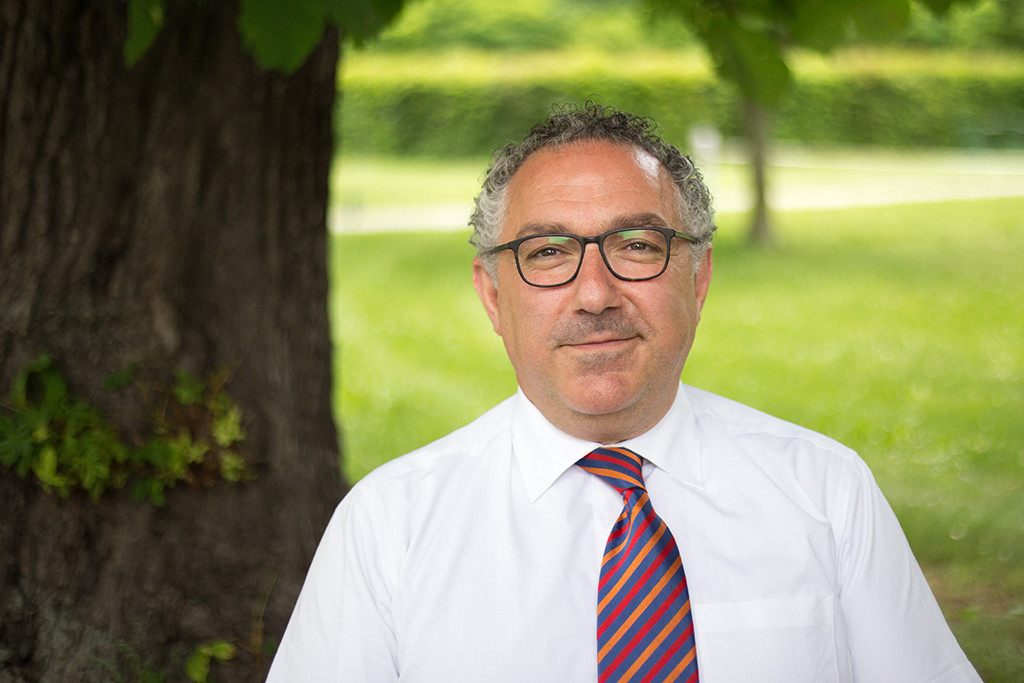 House manager Coco Akdedian
My name is Coco Akdedian. As my name would suggest, I have Armenian roots. I came to ÖJAB as a student in 1989 and moved into the dormitory ÖJAB-Haus Niederösterreich 2 in Vienna – where I also volunteered until 1997. In 1998, I assumed management of ÖJAB-Haus Dr. Rudolf Kirchschläger. And since September 2018, I've been house manager at the dorm ÖJAB-Haus Johannesgasse. I'm now married and have one daughter and one son, and I like to spend my free time on football fields – if not playing for ÖJAB, then as a referee for the football league DSG-Diözesansportgemeinschaft or cheering on my son at his championship matches. My motto in life: live and let live!

Coco Akdedian