Co-AGE Volunteers
Promotion of intergenerational cooperation and volunteering between Austria and Slovakia
Due to the emerging demographic imbalance and aging population, Europe faces major economic and social challenges in the coming decades. This results in central questions:
- In what socio-economic circumstances do older people live?
- What is the nature of the social network in which they are embedded?
- How can we promote better understanding and solidarity between the generations?

The vision of the Co-AGE Volunteers project is to establish a cross-border network of regional actors. At the same time, it supports the engagement of young volunteers and promotes intergenerational solidarity and transnational volunteering among young people in the Austria-Slovakia border region.
Official Launch on 16 June 2021
Together with about 50 participants, the project team celebrated the official launch of Co-AGE Volunteers with an online opening conference on 16 June 2021.
During the conference, experts and volunteers from Austria and Slovakia had their say, shared their experiences and gave their assessments of challenges and potentials of volunteering. This revealed an extremely interesting picture of the similarities and differences in both countries, which provides a good starting point for the project!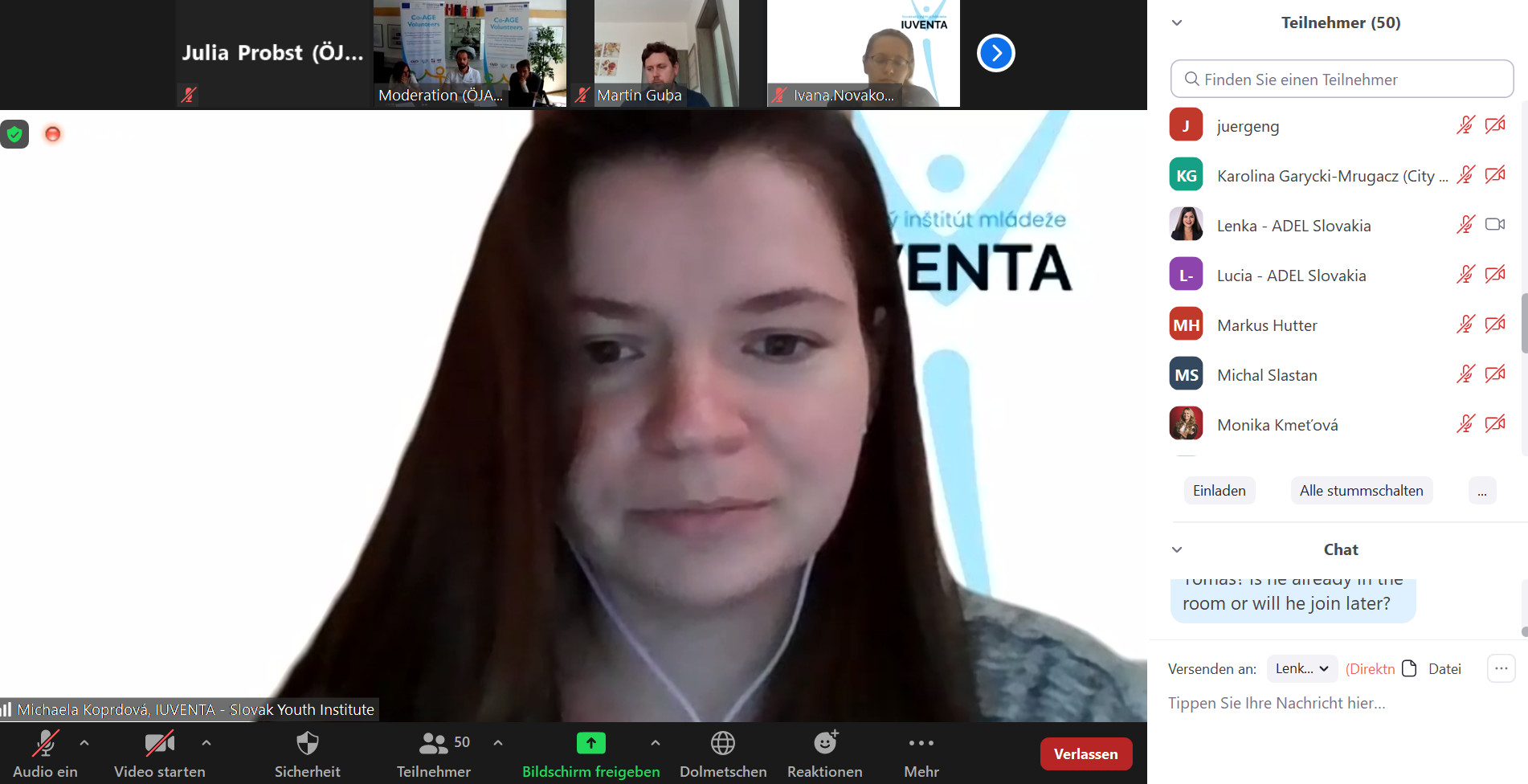 Interesting exchange during the launch: Michaela Koprdová from IUVENTA gave insights into the work of her organisation.
Aims and results of the project are:
Intensify cooperation with a focus on youth education, volunteer coordination and intergenerational solidarity.
Connecting people of different generations
Initiation of a cross-border network and development of a knowledge platform for voluntary education and training
Creation of a bilateral model for intergenerational volunteering and a manual for intergenerational volunteering
Training of volunteers
Establishment of a network with partner organizations
ÖJAB is part of a partner consortium of 2 Austrian and 2 Slovakian organizations. The project activities take place mainly in the border area between Austria and Slovakia.
Project partners: Austria (coordinator), Slovakia
Project duration: January 2021 to October 2022
Project website: www.coagevolunteers.eu/en
The project was selected within the Interreg Slovakia-Austria funding program and was co-financed by EFRE funds.
more about Co-AGE Volunteers