Review
A Selection of completed Projects and Events.
EUPTRAIn
Transnational Knowledge Exchange between Trainers of low-skilled Adults in multiple European Countries
The objective of EUpTrain is to create a transnational network between Austria, Hungary, Bulgaria, Italy, Portugal, Greece and Romania in order to share Europe-wide knowledge between organisations specialised in adult education through exchange of experts and the development of a sustainable handbook comprising transnational good practices and methods for trainers working with low-skilled adults. The target group of this project are trainers of low-skilled adults, with at least 2 years of working experience.
EUpTrain activities include:
3 transnational project meetings attended by a total of 16 experts
one knowledge exchange workshop with the main goal to filter out examples of good practices from all participating organisations and to show international differences, new opportunities, new ways of work and different methodologies in training of low-skilled adults
based on the workshop results: creation of a handbook containing 16 best practices and 8 methodologies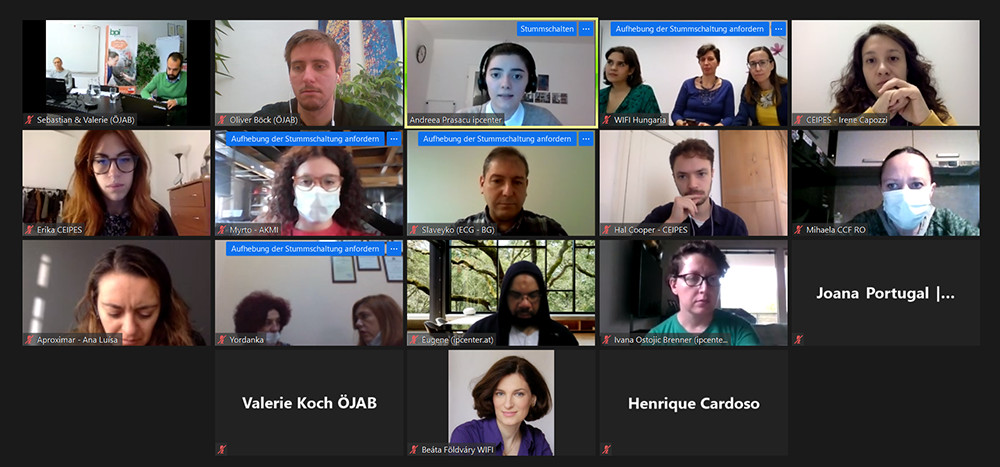 EUpTrain-Attendees at a Online-Conference.
Project exchange in Portugal
From 8 to 12 November 2021, 26 adult education trainers from a total of 7 countries came together in Amadora, Portugal for a knowledge exchange. Working with low-skilled adults poses challenges for all of them in their daily work. The workshop offered space and the opportunity to exchange and learn from each other about helpful ways of working, methods and didactics. A visit to AFID, an organisation that works with adults with special needs, also opened up new perspectives.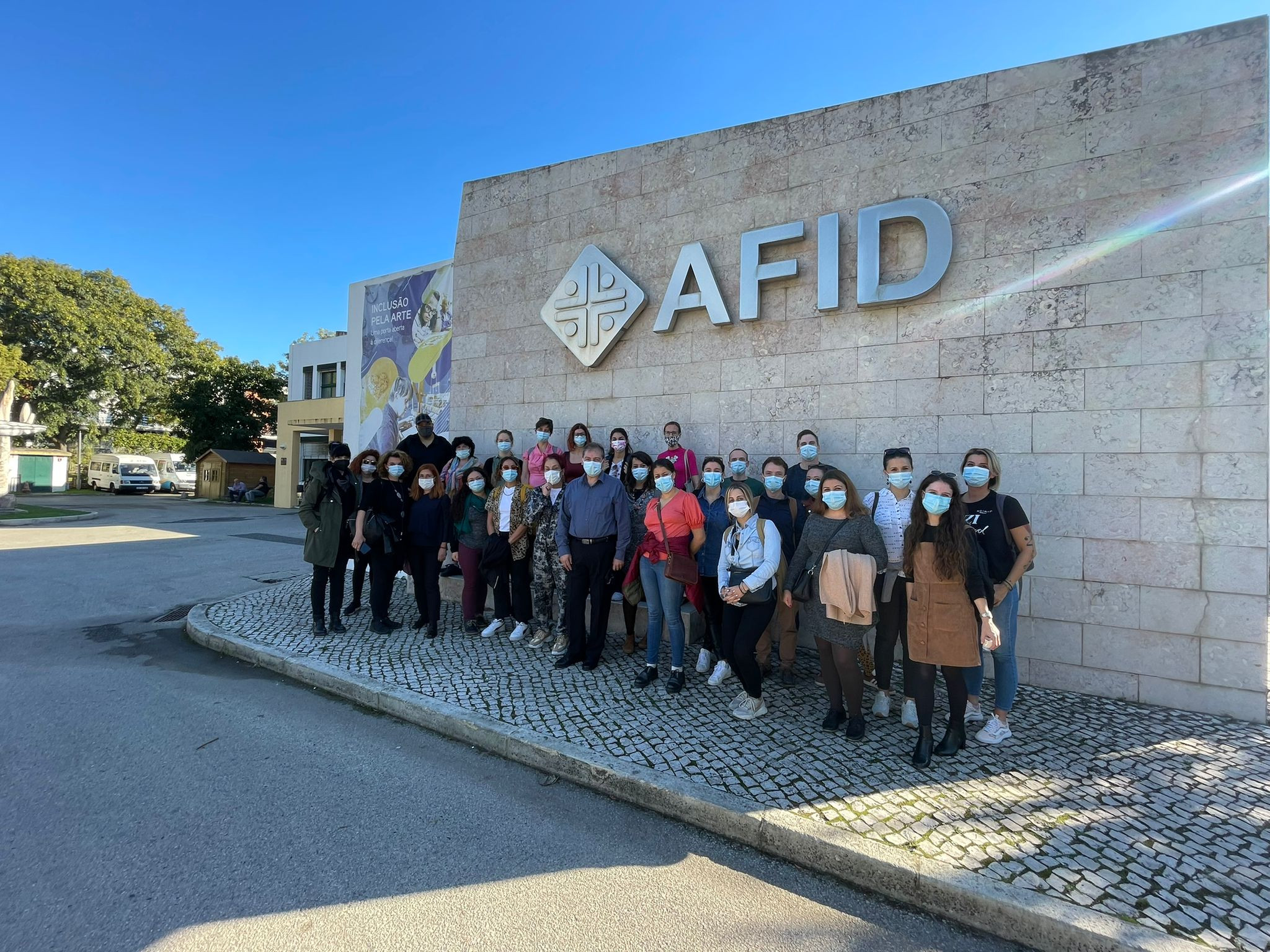 Education trainers from 7 countries came together in Portugal in order to network and exchange know-how
Project partners: Austria (coordinator), Hungary, Bulgaria, Italy, Portugal, Greece and Romania
Project duration: October 2020 to March 2022
The European Commission support for the production of this publication does not constitute an endorsement of the contents which reflects the views only of the authors, and the Commission cannot be held responsible for any use which may be made of the information contained therein.
COMPASS
Career cOnsulting and Mentoring skills caPAcity building for youth workerS working with NEETS
ÖJAB was a partner in the Erasmus+ project COMPASS from November 2019 to October 2021.
This project aimed to improve youth work's impact on the education of NEETs while also placing a focus on NEETs' labor market integration.
The immediate outcome of this project was a training program focused specifically on developing youth workers' soft skills. The intent was to integrate specific knowledge and skills that are necessary for the successful career advising and mentoring of NEETs.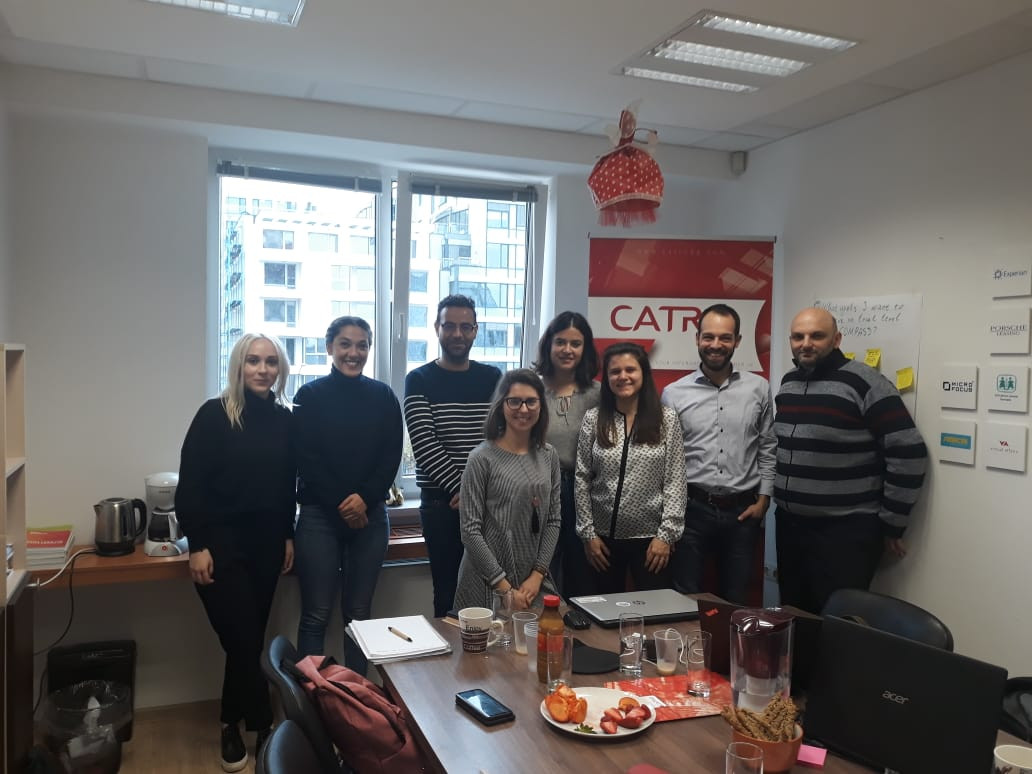 Kick off meeting in Sofia (Bulgaria). Photo: CATRO.
Project partners: Bulgaria (coordinator), France, Greece, Spain, Romania, Austria
Project website: www.compass-eu.org
Project duration: November 2019 to October 2021
Europe through young eyes
Exchange, Explore, Exhibit
ÖJAB was a partner in the Erasmus+ project Europe through Young Eyes from November 2019 to Juli 2021.
This project aimed to cultivate meaningful active citizenship, raise political awareness, and deepen social inclusion among youth.
This project's objectives were achieved via the following measures:
connecting young people's lives with Europe on the personal level
using the photovoice method (participative photography) to give rise to creative and integrative interaction with "Europe" as a theme
using a simulation to render Europe more tangible
participants' research and exploration on Europe's influence at the local and transnational levels
participants' development of recommendations for EU policy
development and publication of strategies for disadvantaged young people
As part of this project, disadvantaged young people were provided with an opportunity to get to know Europe and its institutions better.
Europe: Project Online exhibition
How To Photovoice
How to involve all youth in the european Project
final Recommendations
Projektpartner: Deutschland (Koordinator), Griechenland, Frankreich, Niederlande, Großbritannien, Österreich
Projektdauer: November 2019 bis Juli 2021
Projektwebsite: www.yes-forum.eu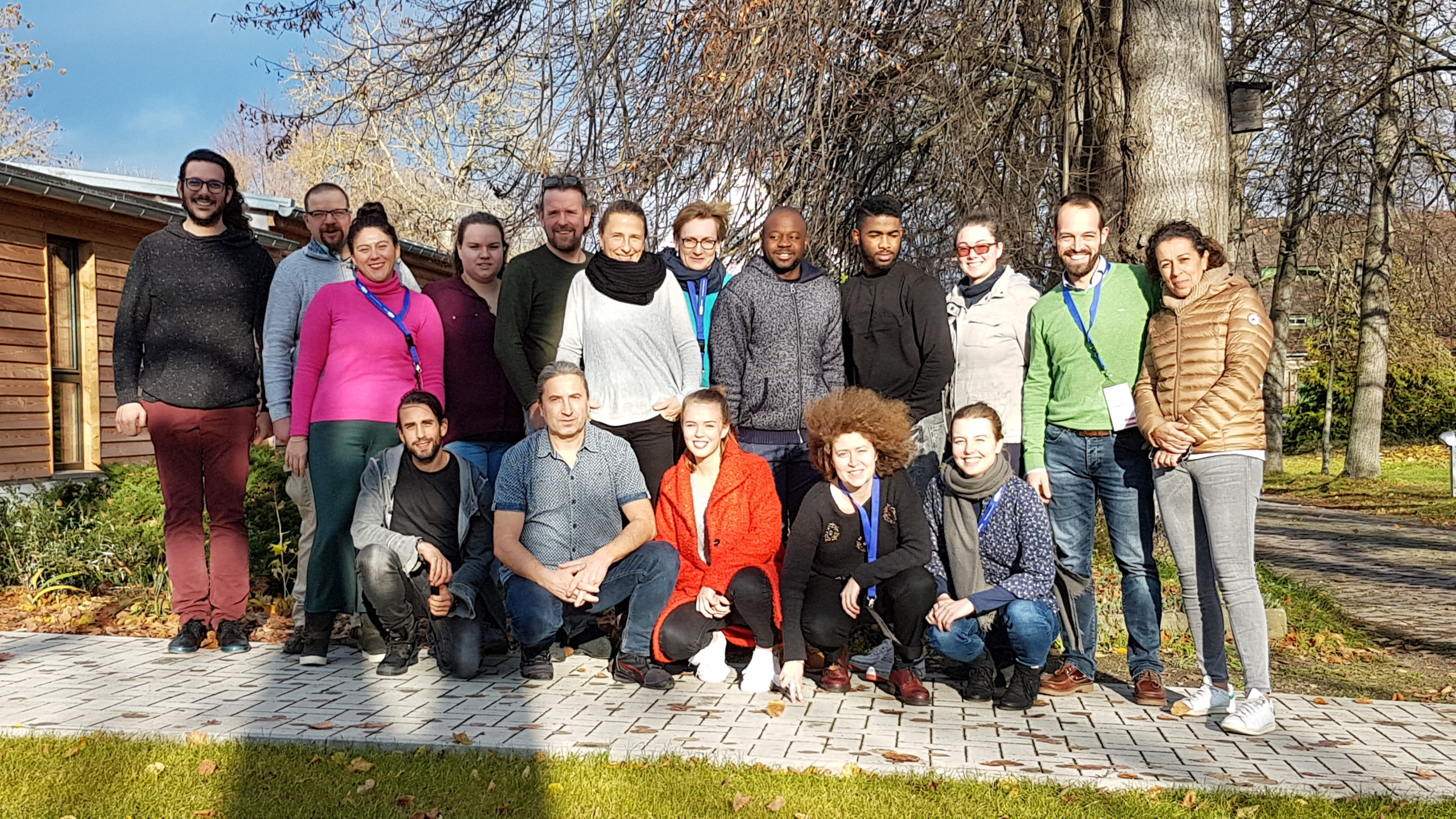 Kickoff meeting in Germany. Photo: Stiftung Evangelische Jugendhilfe St. Johannis Bernburg.
MOBILNA PREŠERNOVA
A Mobility Project of the Economics and Business School Ekonomska šola Ljubljana & Europass Mobility – an important EU Certificate – www.oejab.at/mobilnapresernova
Each year from 2017 to 2019 10 enthusiastic school students from various classes at the secondary and grammar school Ekonomska šola Ljubljana (School of Economics Ljubljana) completed three-week internships at various ÖJAB institutions and subsidiary enterprises, including at the residence and nursing home ÖJAB-Haus Neumargareten, the occupational training institute BPI der ÖJAB – Ausbildungszentrum Wien, the ÖJAB Head Office, the education, conference, and event center Europahaus Wien, and the myNext hostels, hotels, and apartments.
The objective of this mobility project, which is conducted as part of the Erasmus+ program, was to link students' theoretical knowledge relating to office and administrative work with practical experience through their activities at ÖJAB institutions while also helping to cultivate the students' social skills via their experience of a new working environment.
ÖJAB, as the hosting partner organization, organized and coordinated the Slovenian group's stay in Vienna. This included arranging their accommodations, sustenance, internship positions, and cultural activities. ÖJAB also monitored and evaluated the students' internships along with preparing their Europass and ÖJAB certificates.
The school students were accommodated at the dormitory ÖJAB Europahaus Dr. Bruno Buchwieser and provided with meals by the adjacent education, conference, and event center Europahaus Wien. Their educational program in Vienna was complemented by cultural activities including city walks and tours of various sites accompanied by ÖJAB volunteers. And on the program's final day, all participants received the important EU certificate "Europass Mobility", which documented not only their stay abroad but also the skills acquired during this stay.
In 2017 and 2018, Ekonomska šola Ljubljana produced a short video that presents some impressions of this project.
Project partner: Ekonomska šola Ljubljana, Slovenia (coordinator); ÖJAB, Austria (project partner)
Project duration: 3 weeks
This mobility project was supported by EU funds as part of the Erasmus+ program; increasing student mobility is one of the objectives of Erasmus+.
Group photo of the participants from 2019 in front of the Europahaus Dr. Bruno Buchwieser. Foto: Eva Zule/Ekonomska šola Ljubljana.
DROPs
Drop Out Prevention Skills

ÖJAB was a partner in the Erasmus+ project DROPS from September 2019 to September 2020.
The objective of this project was the exchange of experience between youth education organizations on dropout prevention-related themes. The longer-term goal here was to improve the social skills of teachers and trainers who work with groups of at-risk youths (NEETs = Not in Education, Employment, or Training).
Apart from that, the project focused on preparing educators not only to teach vocational subjects but also to function as educational and social advisors. They are to be equipped with the skills necessary to motivate students to take part in class and complete their training, with the ultimate goal being to lower the dropout rate over the long term.
In order to achieve the best possible results in this respect, various types of educational institutions were included in this project.
Project partners: Czech Republic (coordinator), Slovakia, Sweden, Austria
Project duration: September 2019 to September 2020
Final recommendation (Englisch, PDF 200 KB)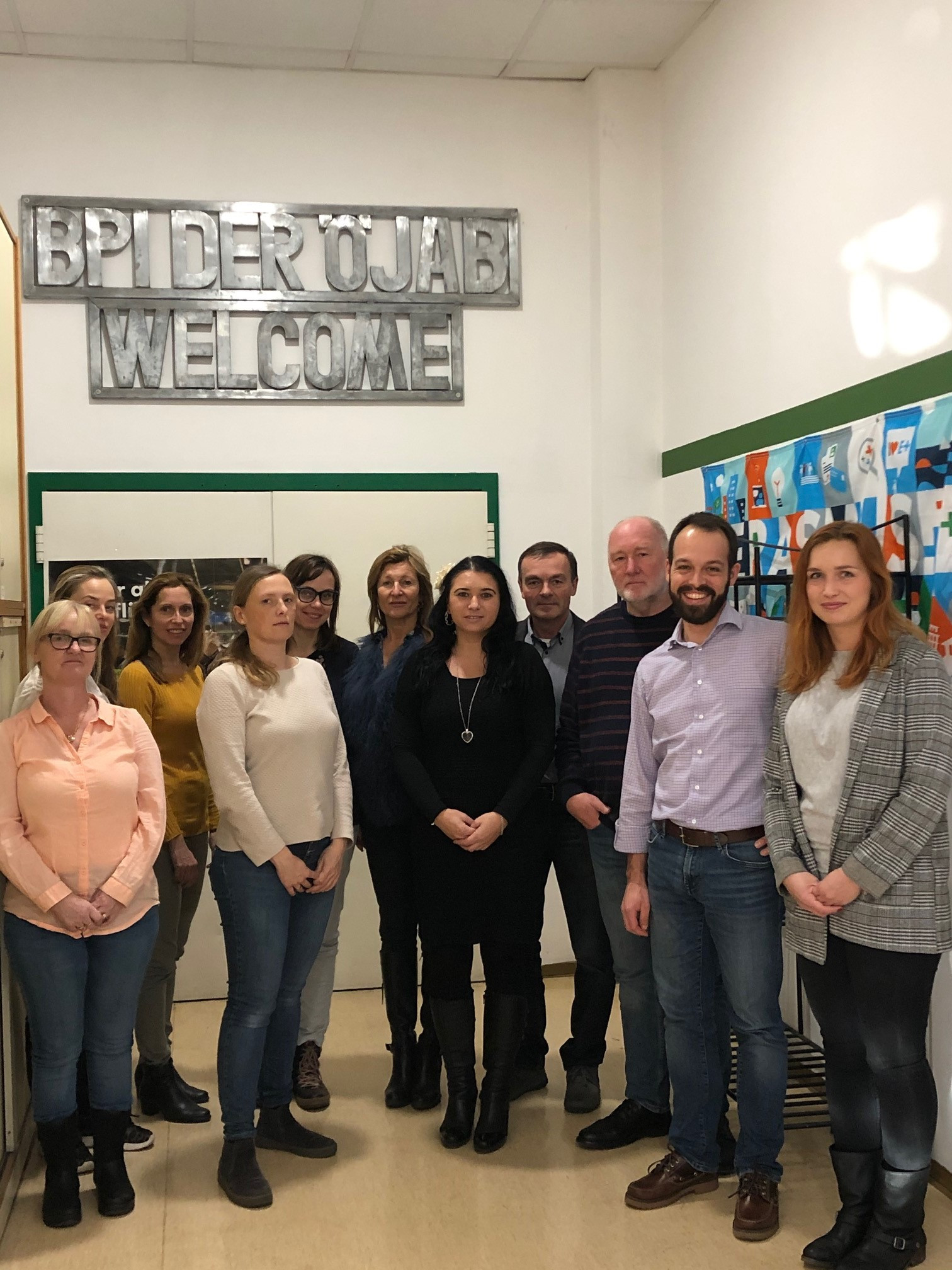 Project meeting in Vienna
YOUTH workers 2.0
Advising and Schooling of Youth Workers all over Europe in the Use of ICT Tools (Information, Communication, and Technology Tools = PCs, Laptops, Software Programs, Printers, etc.) and Digital Working Methods.
From November 2018 to June 2020, ÖJAB was part of the Erasmus+ KA2 project "Youth Workers 2.0". This project aimed to expand upon youth workers' digital skills in order to improve the fundamental training of those who work with young people.
Two surveys were conducted as initial steps toward achieving this project's objectives. One of the surveys addressed the direct target audience of youth workers, while the other addressed the indirect target audience of young people with low qualifications.
The findings from these surveys were used to compile a report that analyses existing needs. This report serves as background information upon which further employment-related studies for youth can be based.
The information thus collected is used to compile guidelines containing proven procedures with which to support youth workers' daily efforts. These guidelines serve to inspire all of their readers and support them in their future work.
Project duration: November 2018 to June 2020
Project partners: Spain (Coordinator), Austria, Romania, Hungary
Project website: https://youthworkers2-0.eu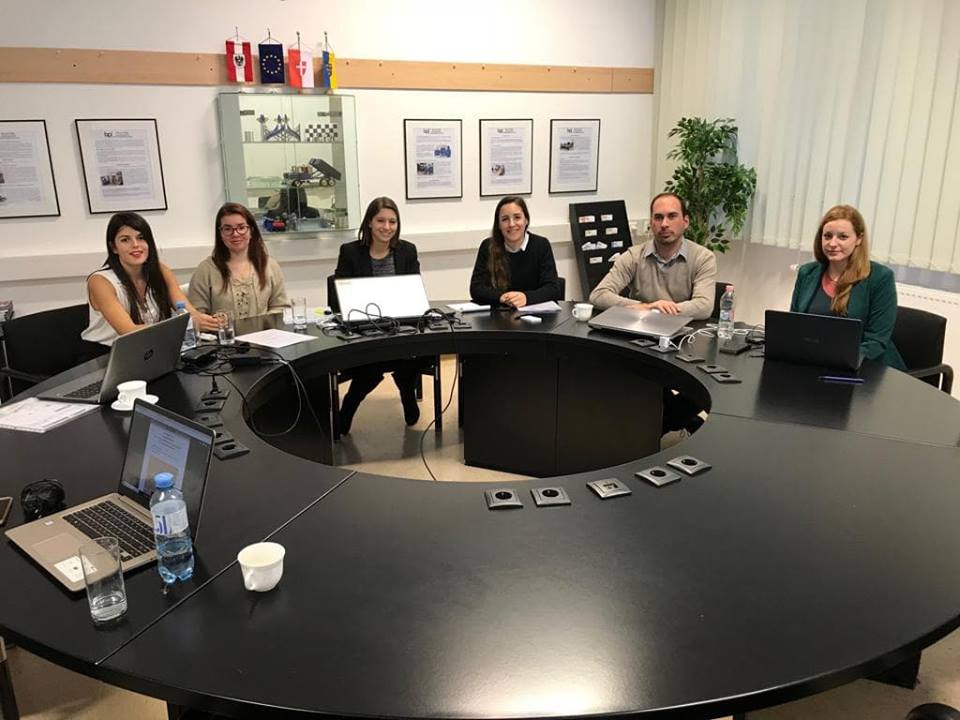 Kick off meeting at the BPI of ÖJAB in Vienna.
ALMIT
From January 2018 to June 2020, ÖJAB was a partner in the project "ALMIT" (Acceleration of Labor Market Integration of Immigrants Through Mapping of Skills and Trainings). This consortium included a further eight partners from Bulgaria, Serbia, and Turkey.
The core idea of this project was to develop an innovative model for ascertaining the skills of migrants and refugees, thus making it possible to support this target group's swift integration into the labor market.
The ultimate objective was to ensure both high-quality and sustainable employment as well as fair social protections, to combat social exclusion and poverty among migrants and refugees, and to improve the conditions under which members of this target group work.
This project was divided into a total of seven work packages. In these, activities including the following werecarried out by the project partners:
Development of an online language course including its curriculum and learning modules
Compilation of civil society-related and intercultural course materials
Pilot runs of the developed courses including their course materials
Compilation of a "train-the-trainer" handbook
Creation of an E-learning platform
Guidelines for labor market policy regulations
SWOT analysis relating to this project's theme in the partner countries
Matching with companies
Publication including final conference in Vienna
All phases of this project involved close collaboration between ÖJAB and the other project partners. And for one of the work packages, ÖJAB was the responsible contact for the other partner countries. This work package had to do with compiling information on local labor market rules and trends as well as on rules pertaining to social assistance, cataloging of the target groups' educational backgrounds and work experience plus compiling profiles that detail refugees' skills, and ascertainment of current labor market demand.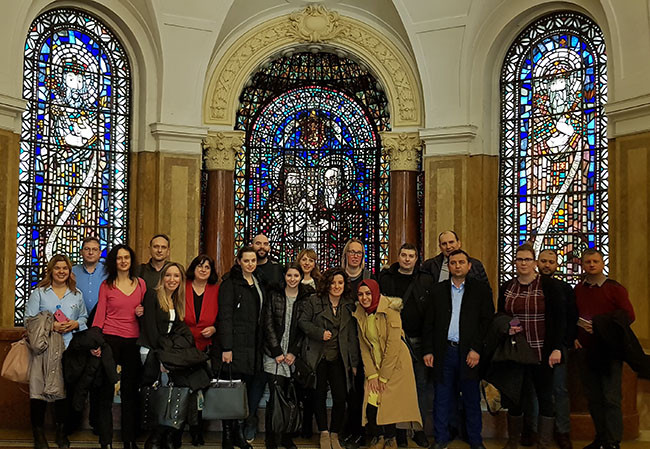 The ALMIT kick-off meeting took place from 11.02.-14.02.2018 in Sofia, Bulgaria. During the meeting there was not only a first meeting, the first steps were planned and the responsibilities were discussed.
Project partners: Bulgaria (coordinator), Serbia, Turkey, Austria
Project duration: January 2018 to June 2020
Project website: almit-project.eu
IAMHC
Innovative Approaches and Methods for Home Caregiver
IAMHC aimed at improving the collaboration between similar organizations in Europe as well as exchanging proven procedures relevant to (home) caregiving and caregiving personnel.
Nursing and health services on the European level
From December 2018 to November 2020, ÖJAB was a partner of the Erasmus+ project "Innovative Approaches and Methods for Home Caregiver". This was ÖJAB's first European project devoted entirely to the topic of nursing and health services.
This project aimed to improve collaboration with similar organizations all over Europe and to exchange proven practices with regard to home caregiving. This was accomplished by building an international network that made it possible to quickly exchange information and adapt to new trends.
Specific objective
Supporting the quality of care and the security of individuals who live in long-term care facilities, doing so in a manner and in an environment that upholds or enhances the dignity and respect accorded to every single resident while fully acknowledging his or her individuality.
Activities
Transnational meetings for the exchange of proven practices relating to home caregivers and home care.
5-day "Best Practice" training session
Organization and conduct of local focus groups sessions and debates
Compilation of a catalog containing the best home care methods, experiences, and concepts.
Activities to disseminate these proven practices.
Members of the project at the kickoff meeting in Mesagne, Italy
Kickoff meeting in Mesagne, Italy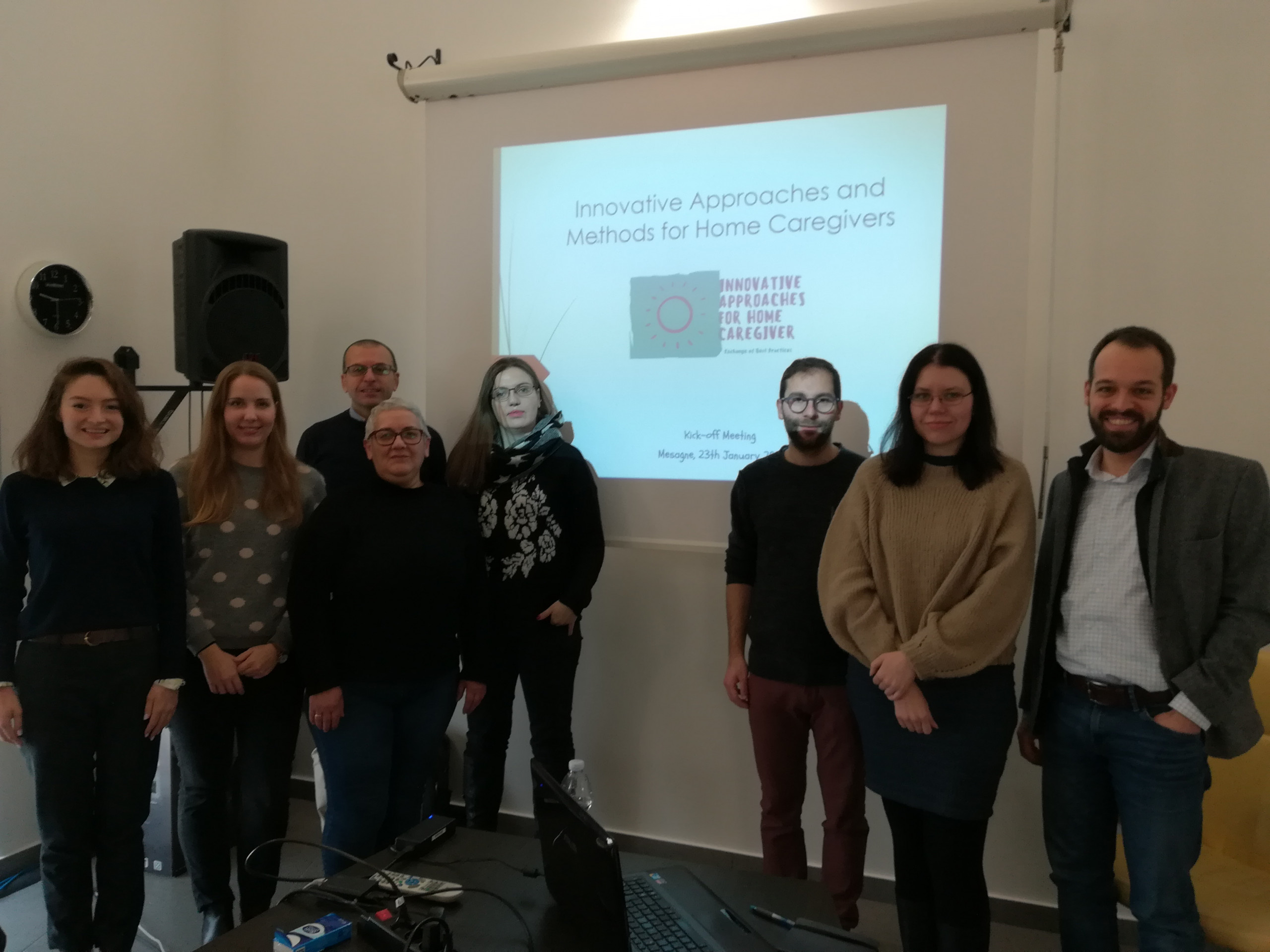 Members of the project at the kick off meeting in Mesagne, Italy
Statement
Participation in the training event in Mesagne as part of the Innovative Approaches and Methods for Home Care Giver project provided me with an opportunity to engage in exchange with other participants on organizational and structural experiences in the context of home caregiving, a field of work that has seen successful development in Vienna by ÖJAB over a period of many years. From every country, at least one "best practice" was introduced and discussed in such a way that it was possible to obtain high-quality insights into the respective countries' systems. During this training event, I was able to focus on both everyday and long-term plans and challenges in the field of home caregiving in other countries such as Spain, Finland, France, North Macedonia, and Italy, thanks to which I came away with new ideas and knowledge that can be put to work in ÖJAB's home caregiving efforts.

Nenad Kostic (department head at ÖJAB-Haus Neumargareten)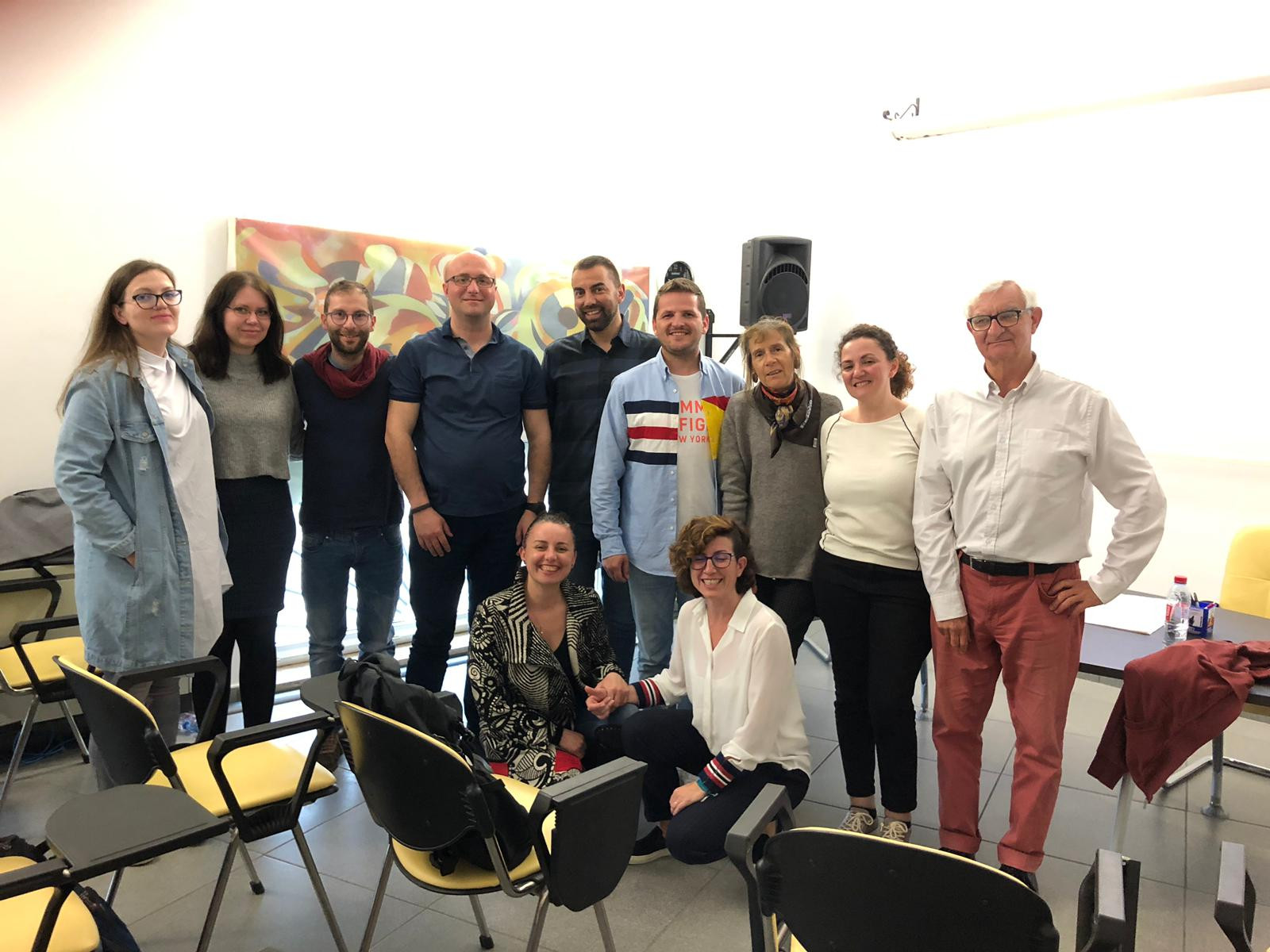 Participants in the training event in Mesagne. Photo: IAMHC
COUNTER HATE
Supporting Youth Workers in the Fight against Online Hate Speech.
From October 2018 to January 2020, ÖJAB participated in the project "Counter Hate" as part of a consortium together with three organizations from Latvia, Spain, and Bulgaria.
The objective of this project was to equip youth workers with the skills and knowledge that are needed in order to develop tools and arguments with which to counter online hate speech.
Specifically, "Counter Hate" concentrated on supporting high-quality efforts to provide all youth workers with the abovementioned knowledge and tools as they pertain to online hate speech against migrants and refugees. These prevention skills were expanded upon in the form of custom-tailored responses, counter-narratives, and awareness-raising campaigns.
The project partners' ranges of activities included the following components:
Project survey and publication of a project survey report
Development of an E-learning course
Compilation of digital guidelines
Local workshops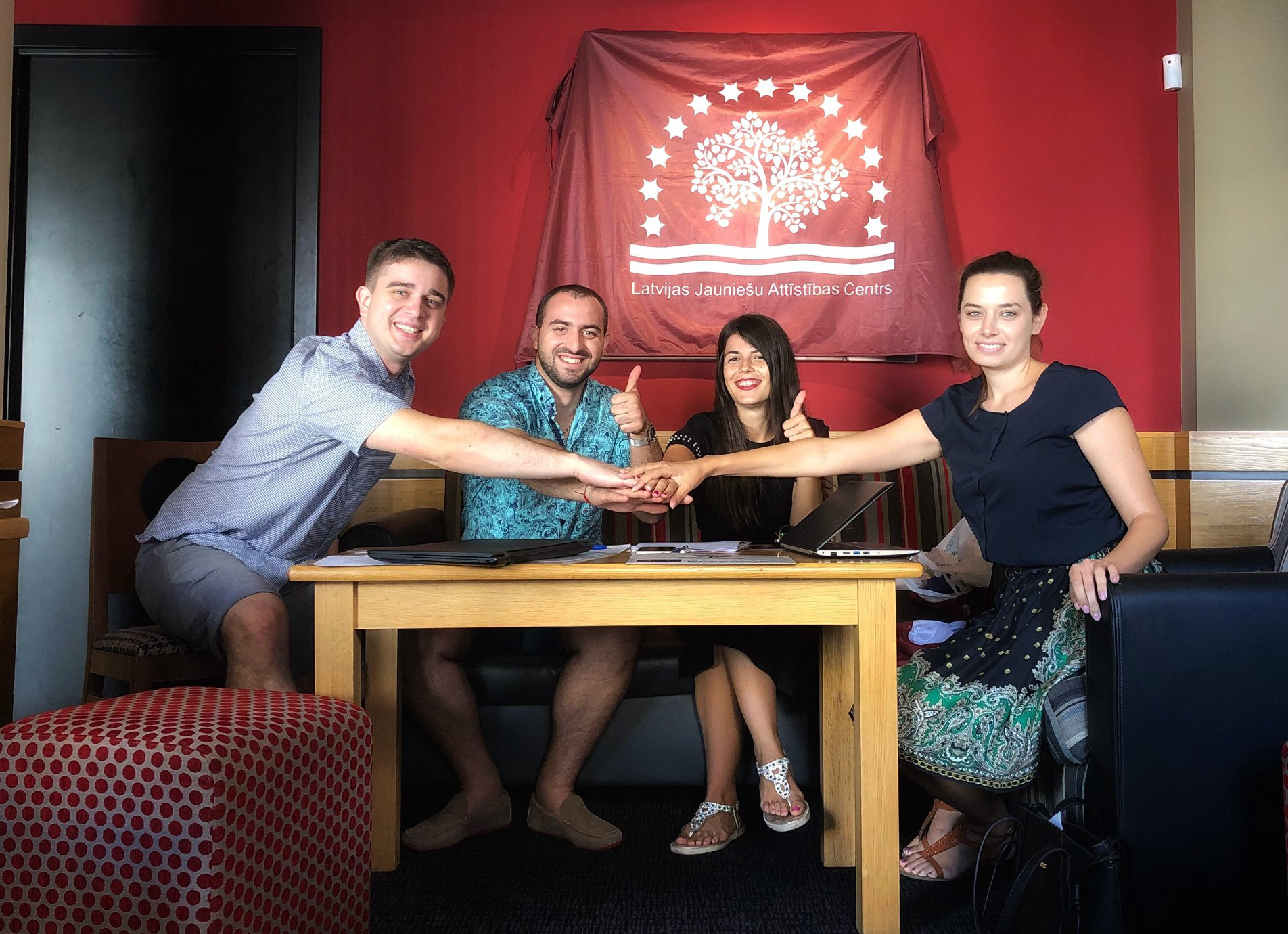 Kick off meeting in Malaga.
"Counter Hate" is an Erasmus+ project that seeks to offer the young generation the knowledge and tools needed to put an end to hate speech in Europe.

We had the privilege of representing Austria in a Europe-wide context at a one-week intensive training course in Latvia. There, we worked together with other international participants to develop and propose solutions with which to combat various aspects of the hate and xenophobia that have grown increasingly widespread in our society, both on the Internet as well as in daily life.

This project took place amidst the Nordic forests on the eastern shore of the Gulf of Riga, not far from the Latvian capital.

A particularly special feature of this event was the enriching cultural exchange with the representatives of the participating countries of Bulgaria, Latvia, and Spain.

.




Danke! Thank you! Gracias! Paldies! Благодаря!

Barbara Preinfalk,

Daniela Demean,

Romy Dueller

, Anxhela Golemi, project members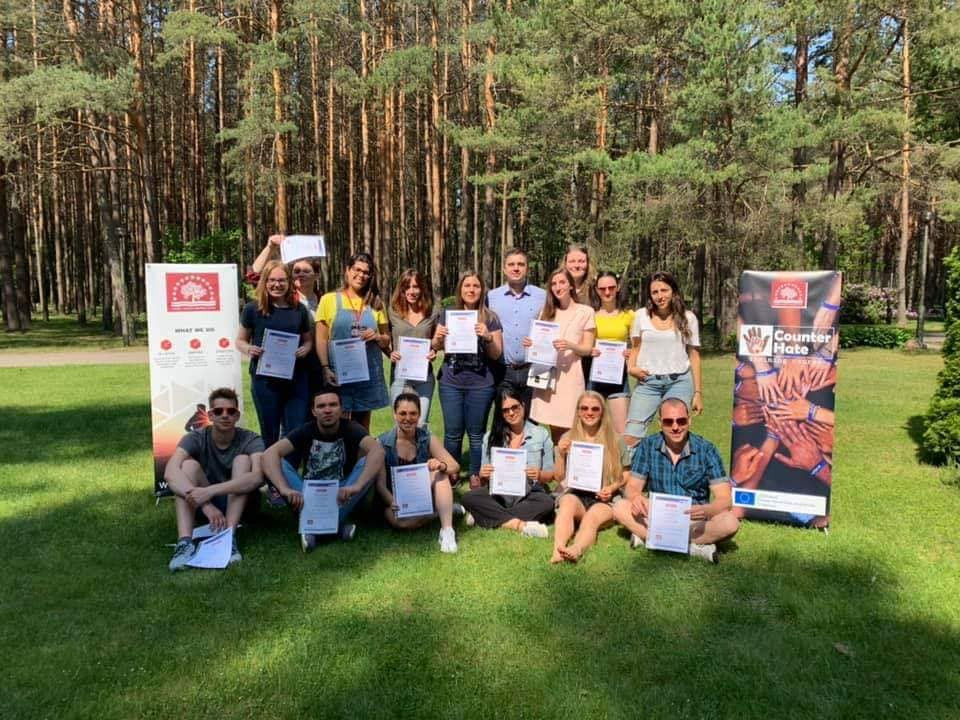 Erasmus+ training for youth workers in Saulkrasti (Latvia). Photo: Counter Hate.
Project partners: Latvia (Coordinator), Spain, Austria, Bulgaria
Project duration: October 2018 bis January 2020
Project website: http://counterhate.eu
Volunteers 4 All
This Project helps Volunteers in NGOs to develop Social Skills.
Volunteers 4 All was a 20-month European project, co-funded by the European Commission's Erasmus + (KA2) program, which aimed to help youth workers and NGO volunteers develop new social and digital literacy skills in their day-to-day work need to address the refugee crisis in Europe. This project, in collaboration with four project partners, focused on promoting quality youth work in the social and digital sectors.

In the project, an e-learning training was developed to familiarize volunteers with the possibilities of digital media, to get involved, to tell a story, to understand events, to create awareness and to bring about change.

In addition, a digital guide was compiled, in the form of a series of learning materials as open educational resources.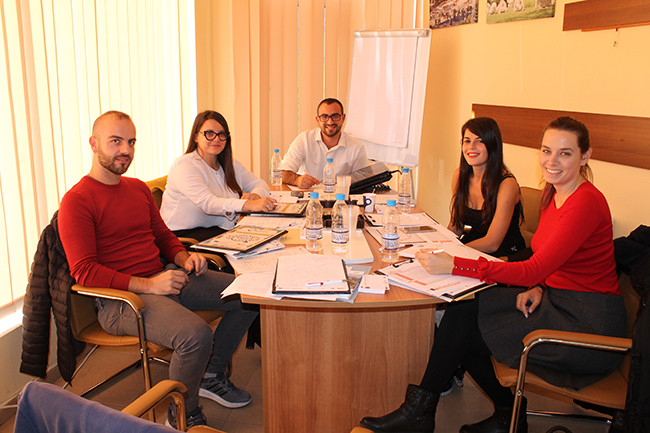 Representatives of participating partner organizations at kick-off meeting in Razlog, Bulgaria (October 23-25, 2017) (Photo Credit: Alternativi International).
Project partners: Alternativi International, Bulgaria (Coordinator), PROJUVEN, Spain, Futuro Digitale, Italy, ÖJAB

Project duration: October 2017 to May 2019
Involve
The Erasmus + KA2 Project aimed to Support further Development and Strengthening of Volunteerism.
Training for volunteers was improved and, thus, the work efficiency of the organizations increased. The project aimed to eliminate or minimize the following problem areas:
Decreasing motivation over time due to changing responsibilities and responsibilities
Lack of self-assessment in mental stress, revision, etc.
Inadequate conflict strategies in conflicts with the people being supported, with other volunteers or with supervisors.
INVOLVE aimed to create awareness of the value and benefits of soft skill training for volunteers as well as to deepen the methodological knowledge of these training efforts. In addition, the subject-specific knowledge of volunteers was strengthened according to the needs of the individual partner organizations.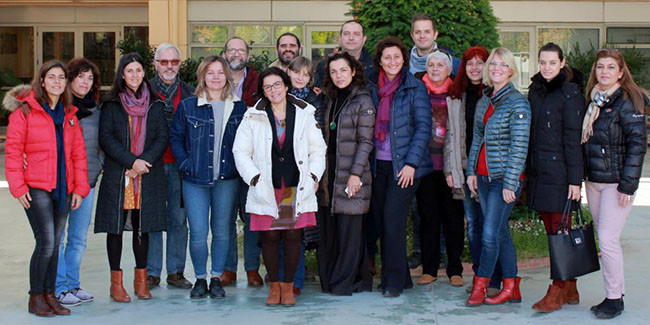 Participants in the kick-off meeting of the project "Involve" in Athens.
The project objective was achieved by the following measures:
Identification of at least 2 national best practice examples by each partner organization and preparation of a summary and presentation of the best practice examples
Organization of an internet-based platform for knowledge exchange between the project partners
2 international training workshops
The project was managed by the German NGO "Association for Inclusion and Social Work e.V.". 40 participants from 10 partner countries (Germany, Austria, Spain, Bulgaria, Poland, France, Italy, Greece, Portugal, Slovenia) will participate in the project.
Project partners: Germany (Coordinator), Austria, Spain, Bulgaria, Poland, France, Italy, Greece, Portugal, Slovenia

Project duration: November 2017 to April 2019
Like Home
Promoting the Inclusion of newly arrived Migrants and their Integration into the Labor Market and the Host Society.
From December 2016 to November 2018, ÖJAB and 8 organizations from different EU countries participated in the "LikeHome" project. The overall aim of the LikeHome project was to foster the inclusion of newly arrived migrants and refugees to the host country education and training system, to the local economy and to the society in general.
As part of the project, the project partners implemented following activities:
Development and implementation of a framework of best practice models for the assessment and recognition of already acquired skills, qualifications and competences of migrants and refugees, based on models defined by the European Commission as best-practice models
Development of training materials for trainers, educators, and government officials responsible for reception of migrants and recognition of qualifications
Creation of the LikeHome e- assessment tool
Organization of Train the Trainer seminars
Piloting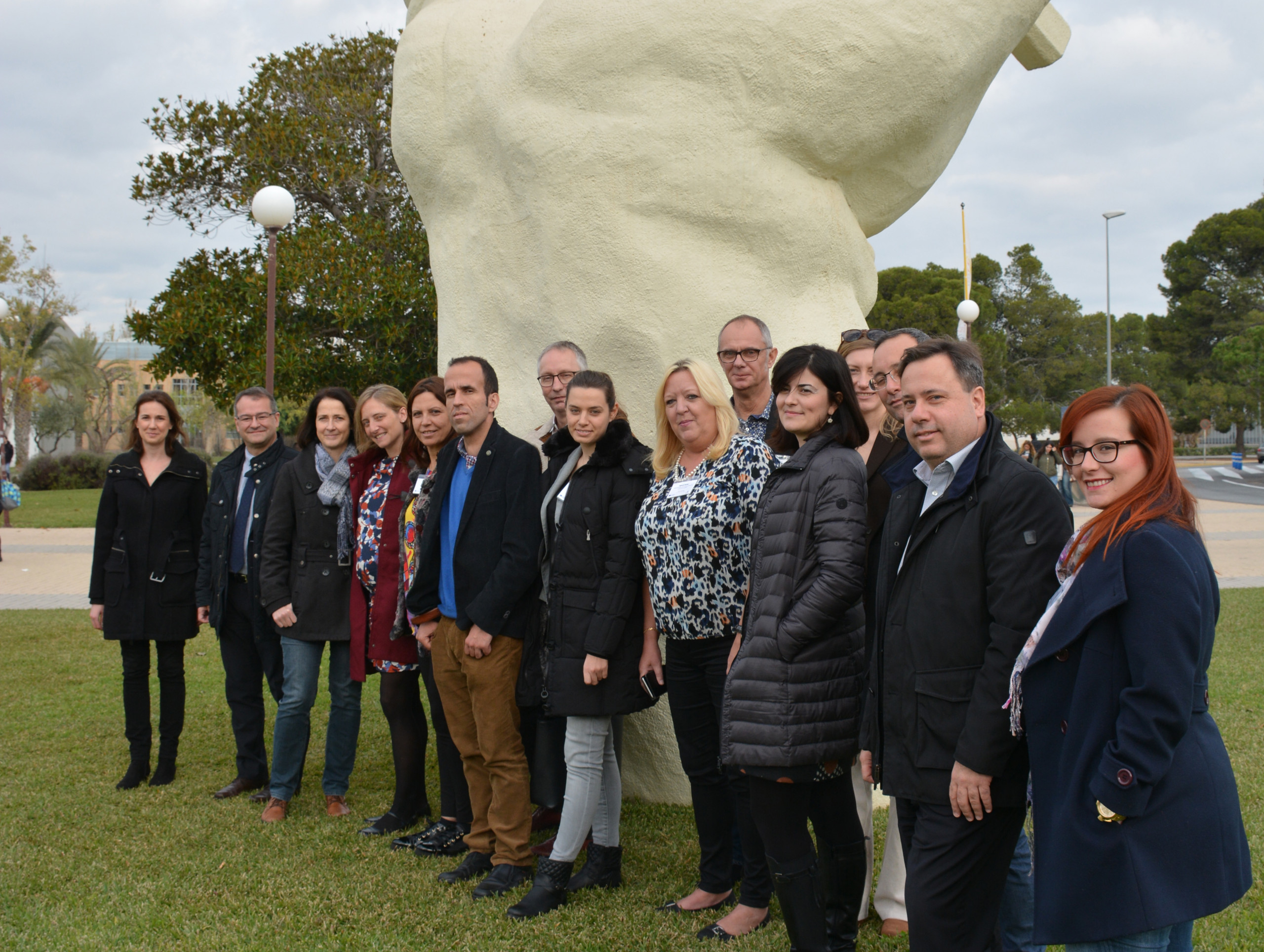 The LikeHome kick-off meeting took place on 14th and 15th of December 2016 in Alicante, Spain. During the meeting, in addition to getting to know each other, the first steps were planned and responsibilities were clarified.
Project partners: Spain (coordinator), Austria, Greece, Belgium, Germany, Sweden, Italy
Project duration: December 2016 - November 2018
This project has received funding from the European Union's Erasmus+ programme under grant agreement No 2016 - 2791 / 001 – 001. It has been funded with support from the European Commission. This publication reflects the views only of the author, and the Commission cannot be held responsible for any use which may be made of the information contained therein.
Radical Online Education
The Project addressed the Issue of Radicalization and Recruitment of Youth for Combat in War Zones. This Recruitment often happens through the Internet and through Social Media.
Radical Online Educationist was a 20-month European project, co-funded by the European Commission's Erasmus + (KA2) program. The project addressed the issue of radicalization and recruitment of youth for combat in war zones. This recruitment often happens through the internet and through social media.

That's why "Radical Online Education" wanted to be pro-active against Internet radicalization and find an appropriate response to this threat. The project as aimed at trainers and social workers who want to improve their digital skills, learn effective online engagement and be trained in the targeted use of information and communication technologies.

As part of this innovative project, an e-learning training program was developed so that trainers and social workers can use social networks to detect signs of digital radicalization early and to stimulate critical thinking. Furthermore, a digital best practice guide was compiled, which should include expertise in the field of radicalization prevention, all information and ideas exchanged by the participating organizations and advice for establishing critical thinking.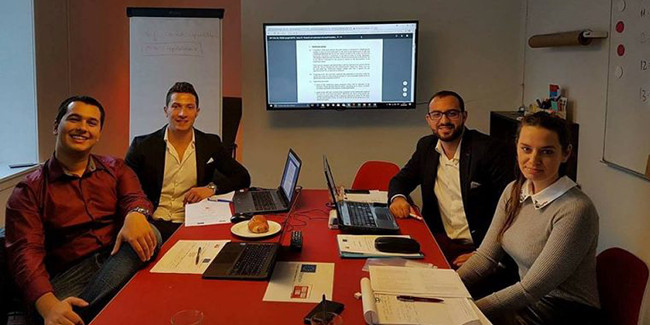 Project partner at the kick-off meeting in Copenhagen (October 29 - 31, 2017) (Photo Credit: Danish Youth Team).
Project partners: Danish Youth Team, Denmark (Coordinator), PROJUVEN, Spain, Alternativi International, Bulgaria, ÖJAB
Project duration: October 2017 to March 2019
Mobilna Prešernova
Ein Mobilitätsprojekt der Wirtschaftsschule aus Ljubljana. Europass Mobilität - ein wichtiges EU Zertifikat.
Von Juni bis Juli 2018 absolvierten 10 engagierte SchülerInnen unterschiedlicher Klassen der Wirtschaftsschule "Ekonomska šola" aus Ljubljana ein dreiwöchiges Praktikum in verschiedenen ÖJAB Institutionen, darunter das Europahaus Kongresszentrum, das ÖJAB Dr. Bruno Buchwieser Haus, das ÖJAB Haus NeuMargareten, das BPI der ÖJAB, die ÖJAB Zentrale und die myNext Sommer Hostels in Wien.
Das Ziel des Mobilitätsprojektes welches im Rahmen des Erasmus+ Programmes durchgeführt wurde, war es das theoretische Wissen der StudentInnen aus dem Bereich Büro/Administration mit praktischen Erfahrungen durch die Tätigkeit in den ÖJAB-Institutionen zu verbinden und die sozialen Fertigkeiten der StudentInnen durch die Arbeit in einem neuen Arbeitsumfeld zu stärken.
Die ÖJAB übernahm als Aufnahmepartnerorganisation, die Organisation und Koordination des Aufenthalts der slowenischen Gruppe in Wien. Dies umfasste die Organisation der Unterbringung, der Verpflegung, der Praktikumsplätze und der kulturellen Aktivitäten. Außerdem war die ÖJAB für das Monitoring, die Evaluierung des Praktikums und die Erstellung der Europass und ÖJAB Zertifikate verantwortlich.
Die StudentInnen wurden im ÖJAB Studentenwohnheim Dr. Bruno Buchwieser untergebracht und erhielten ihre Verpflegung aus dem gegenüberliegenden Rosen Hotel. Das Projekt wurde zusätzlich durch kulturelle Aktivitäten wie Stadtrundgängen und Besichtigungen verschiedener Sehenswürdigkeiten ergänzt. Am letztem Tag ihres Aufenthaltes erhielten alle TeilnehmerInnen das Zertifikat "Europass Mobilität" verliehen – ein wichtiges EU Zertifikat – mit welchem nicht nur der Auslandsaufenthalt, sondern auch die dort erworbenen Kompetenzen bescheinigt werden.
Die Wirtschaftsschule aus Slowenien (Ekonomska Sola Ljubljana) hat ein kurzes Video mit einigen Eindrücken zu diesem Projekt erstellt welches hier ab Herbst aufrufbar ist.
Projektpartner: Ekonomska šola Ljubljana, Slowenien (Koordinator), ÖJAB, Österreich (Projektpartner)
Projektdauer: 24. Juni bis 14. Juli 2018
Dieses Mobilitätsprojekt wurde von der EU gefördert und zwar im Rahmen des Programms Erasmus+. Ziel dieses Programms ist es u.a. die Mobilität der SchülerInnen zu erhöhen.